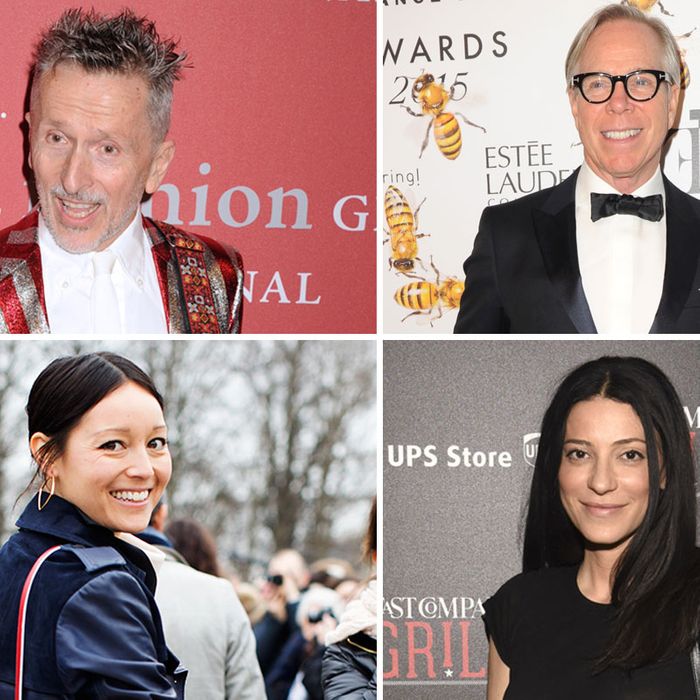 "I burn Nag Champa on a little table in the entryway." —Rachael Wang
Photo: Photo Image Press / Splash News; Andrea Renault / Polaris Images; courtesy of Scott Schulman; Vivien Killilea/Getty Images for Fast Company
A weeklong series on the art of entertaining, for women who are too busy for Pinterest.
In honor of Mostess week, our tribute to entertaining, we asked 12 fashion insiders for the one item they keep stocked for hosting parties at home. Their answers ranged from vinyl records to pumpkin-bread mix to booze — so much booze. Read on to see them all, including incense tips from It Girl and CFDA/Vogue Fashion Fund winner Aurora James, a holiday drink recommendation from André Leon Talley, and an explanation for why you should always hand out party hats from Misha Nonoo.
Naeem Khan, designer
"My wife and I love to host parties all year round, but especially during the holidays. We always celebrate these special occasions with Ruinart Champagne and Casa Dragones tequila. In the summer we usually serve Champagne in deep goblets over ice, but in the winter, we prefer it chilled in Champagne flutes from Schott Zwiesel. We always serve tequila in chilled tequila glasses. My favorites are from Riedel's Vinum collection."
Misha Nonoo, designer
"My husband and I have a pretty extensive hat collection that ranges from a very tall and furry Beefeater hat to a traditional British policeman custodian helmet and a colorful sombrero. I usually present my guests with a hat when they walk in the door. Hats are the ultimate icebreaker."
Simon Doonan, Barneys New York creative ambassador-at-large
"I would never dream of hosting a party unless I was wearing my Liberace necklace. This festive accessory consists of three Liberace charm bracelets — linked together into a necklace — which I purchased decades ago at the now-defunct Liberace Museum gift shop in Las Vegas. No matter how much expensive booze or couture pâté we serve, nobody will have a good time unless Liberace is in the house."
Yael Aflalo, founder and CEO, Reformation
"I always have boxes of Williams-Sonoma Pumpkin Quick Bread Mix on hand during the holidays. It's got to be the most minimal effort you can make in the kitchen with the best results, and everyone thinks you are a culinary master. Your house smells festive, you have something 'homemade' to serve and guests think you can cook (which I never confirm or deny)."
Rachael Wang, fashion stylist and creative director
"I burn Nag Champa on a little table in the entryway. This sets the mood for easy-going ashram vibes."
André Leon Talley, contributing editor, Vogue
"Egg nog. It's an old-fashioned drink of the holiday season. You mix it with your favorite bourbon or rye or scotch. Should be served in a marvelous glass. Always add a dash of cinnamon."
Jennifer Fisher, designer, Jennifer Fisher Jewelry
"I always keep a few artisanal cheeses and meats in the house, which I pick up every Sunday morning on my weekly Bleecker Street food run. One stop at Faicco's for meat and then to Murray's Cheese shop for cheese and snacks. A cocktail-party favorite of mine is truffle gouda. I always keep some in my fridge along with a container of Mitica quince paste."
Tommy Hilfiger, designer
"NEST holiday candles are amazing! My favorite holiday blend is pomegranate, Mandarin orange, pine, cloves, and cinnamon. The three-wick is the best. My wife Dee keeps them burning throughout the house all through the holidays."
Micaela Erlanger, fashion stylist
"I got a Pro-Ject record player and Marshall speakers last year and have a full stock of vinyl tunes these days. I love me some oldies: Etta James, Lena Horne, Miles Davis, Diana Ross, Billy Joel, Michael Jackson, and everything Billy Idol, Pink Floyd, The Cure, and Fleetwood Mac. It's more of a year-round treat, since collecting never gets old, but the holidays are certainly the time of year that this toy gets the most use!"
Aurora James, creative director, Brother Vellies
"Palo santo. It's such a beautiful, natural scent and always makes me feel connected to the earth and my environment. Usually the guests take over and start burning it themselves. Sometimes it's nice to set things on fire and watch it fade away."
Jenni Kayne, designer
"I always keep my home stocked with Cire Trudon candles! Their scents are so unique and the quality of the wax is amazing. My trick is to keep the candles hidden. I always have multiple candles burning throughout the house so each room smells heavenly, but so they don't compete with my tablescape or other décor elements."
Leandra Medine, founder, The Man Repeller
"I have a swag drawer in my kitchen, which I use to give stuff to guests when things get awkward, or if I'm being a shitty host but want them to remember my generosity upon their departures. Contents of said drawer include lipsticks, teeth whiteners, USB cords, and iPhone 5 cases."
*These interviews have been edited and condensed.