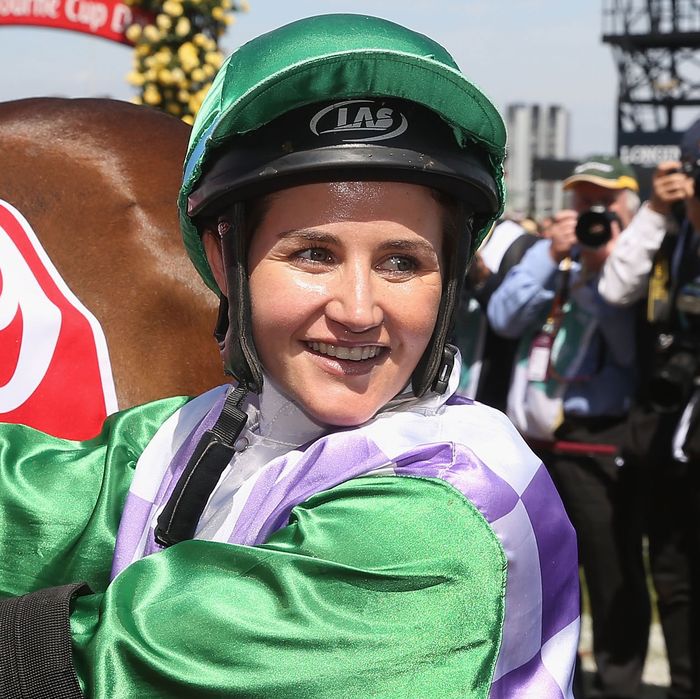 Michelle Payne.
Photo: Michael Dodge/Getty Images
The Melbourne Cup, which began in 1861, is Australia's most prestigious thoroughbred horse race. Every  year since its inauguration, the Cup and its generous prize money has been won by — you guessed it— a male jockey. The first female entrant didn't arrive until 1987, when Maree Lyndon broke the race's gender barrier. And finally, on Tuesday, Michelle Payne, 30, won the Melbourne Cup, making her the first woman in the race's 155-year history to do so. But that doesn't mean it's all been an easy ride.
The record-breaker, who comes from a family of equestrians, told the press after winning the race that she'd faced sexism throughout her life as an athlete: "It's such a chauvinistic sport, a lot of the owners wanted to kick me off," she said. "Everyone else can get stuffed [who] think women aren't good enough."
Payne's horse is the wonderfully named Prince of Penzance, whom Payne described as being "awesome." "It's like a dream come true," she said, which roughly translates to screw the haters for thinking women couldn't win.
Now that Payne is the biggest boss in Australia, what do we think she'll do with her cut of Prince's prize money? Disney World, maybe?