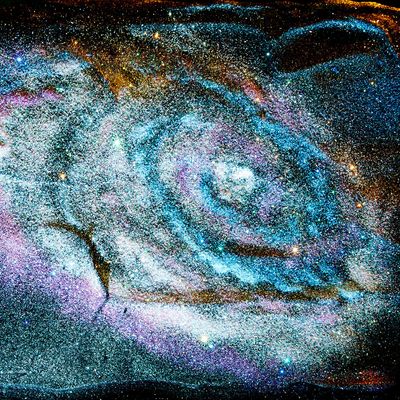 Gather Journal's Gingerbread "Milky Way" Tres Leches cake.
Photo: Gentl and Hyers
A weeklong series on the art of entertaining, for women who are too busy for Pinterest.

Biannual food magazine Gather Journal devoted its latest issue to New York's American Museum of Natural History. Each chapter in the Origins issue showcases a full menu modeled after one of the museum's rooms, from fossils to outer space. For the Cut's Mostess series, two sublime dessert recipes from the James Beard Award–winning publication are presented here.
"The Gingerbread 'Milky Way' Tres Leches cake nods, with its ingredients, to the moniker of the galaxy that inspired it, and, with its sparkly stardust topping, to its swirling appearance," says Gather Journal co-founder and editor Fiorella Valdesolo. As for the Brown Butter and Pear Lunar Clafoutis, it "was designed to mimic the moon's pocked surface," she explains.
The space chapter is a timely nod to the surge in space news this year, including September's blood moon and the discovery of water on Mars. Above all, the issue is a visually stunning exploration of culinary art. "People have told us that they buy two copies of each issue, because they leave one on their coffee table to just be beautiful and then they bring one into the kitchen to get all messy," says co-founder and creative director Michele Outland. "We want people to cook from the issues and to have these amazing gatherings. We certainly hope we can inspire that."

Read on to learn how to make space cakes (with several sparkling shades of edible glitter) and preview the full space menu below.
***
Gingerbread "Milky Way" Tres Leches (pictured above)
The wildly beautiful Milky Way is the swirling galaxy that we call our own, a vast spectrum boasting hundreds of billions of stars that, on the darkest nights (and far away from the lights and pollution of our major cities) can be glimpsed. Use your favorite nebula (Rosette? Carina?) as a visual guide for the glittery stardust topping.
Serves: 6 to 8
1½ cups all-purpose flour
1½ tsp ground cinnamon
1 tsp baking powder
½ tsp ground cloves
2 tsp ground ginger, divided
5 large eggs
¾ cup sugar
1 stick (8 Tbsp) unsalted butter, melted
1 Tbsp finely grated fresh ginger
1 tsp vanilla extract
½ cup sweetened condensed milk
½ cup evaporated milk
½ cup whole milk
1 Tbsp molasses
1½ cups heavy cream
edible glitter dust in black, purple, light pink, light blue, and silver
1. Preheat oven to 350°F. Lightly oil an 11 x 7-inch baking pan, then line with parchment paper running the length and width of sides with slight overlap.
2. In a small bowl, whisk together flour, cinnamon, baking powder, cloves, 1½ tsp ground ginger, and ¾ tsp salt.
3. In a large bowl, beat eggs and sugar on medium with electric beaters until pale and doubled in volume, 4 to 5 minutes. Stir in butter, fresh ginger, and vanilla. Alternating between the two, stir in flour mixture and egg mixture, beginning and ending with flour. Pour batter into pan and bake until cake is firm to the touch and a toothpick comes out clean, 17 to 20 minutes.
4. While cake is baking, whisk milks with molasses and remaining ½ tsp ground ginger. Poke warm cake all over with a wooden skewer and drizzle milk mixture over top. Chill at least one hour or, preferably, overnight.
5. Whip cream to soft peaks and spread over top and sides of cake. Scooping black glitter dust onto a small offset spatula or spoon, gently blow onto cake until lightly covered. Beginning in the center and swirling outwards, gently tap small amounts of glitter dust onto cake in a circular motion. Repeat with multiple colors to make a galaxy ring. Decorated cake can be frozen. Defrost 45 minutes before serving.
—Recipe by Katy Peetz
***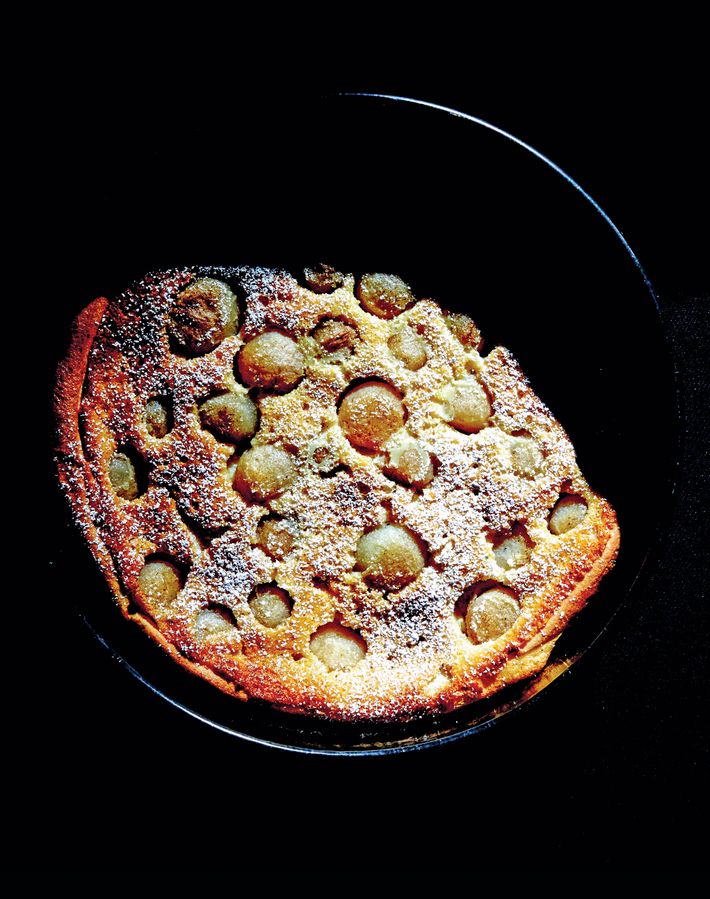 Brown Butter and Pear Lunar Clafoutis 
It was Galileo who first got a close-up glimpse of the moon and its dusty, crater-dimpled surface when he pointed his tiny telescope toward the night sky in 1609. That the celestial wonder looms large for us earthlings makes sense; it is our closest neighbor in space. Our brown butter and pear clafoutis, which mimics its mysterious pocked surface, will have a similar magnetism.
Serves: 6
2½ Tbsp unsalted butter, plus more for buttering dish
3 firm ripe Anjou pears, peeled and scooped into balls with a melon baller (about 1½ cups)
3 large eggs, at room temperature
1 1/3 cups whole milk
½ cup sugar
½ cup all-purpose flour
¼ tsp ground cardamom
1/8 tsp almond extract
confectioners' sugar for dusting
1. Preheat oven to 375°F. Butter a 1½ to 2 qt ovenproof baking dish pretty enough to serve from.
2. Melt the butter in a medium skillet over medium heat until it's lightly browned and smells nutty, about 3 minutes. Add pear balls and cook, swirling pan occasionally, until pears are lightly caramelized, about 4 minutes. Scatter pears with their brown butter in prepared dish.
3. In a blender, combine the eggs, milk, sugar, flour, cardamom, extract, and ¼ tsp salt until smooth.
4. Pour batter over pears and bake until pale golden and just set, about 40 to 45 minutes. A sharp knife inserted into the custard should come out clean. Clafoutis will sink slightly as it rests. Serve warm or at room temperature dusted with confectioners' sugar.
—Recipe by Maggie Ruggiero
***
The Space Menu
Amuse-Bouche: Spicy Sun Purses & Zesty Sour Cocktail 
Starter: Spiced Burrata Fireball with Charred Bread  
Main: Ghormeh Sabzi "Black Hole" Stew
Dessert: Brown Butter and Pear Lunar Clafoutis
Dessert: Gingerbread "Milky Way" Tres Leches
Gather Journal. $19.99 for an issue; $35 annual subscription includes the Gather Recipe App.
Photographs above by Gentl and Hyers. Food Styling by Maggie Ruggiero. Prop Styling by Kim Ficaro.