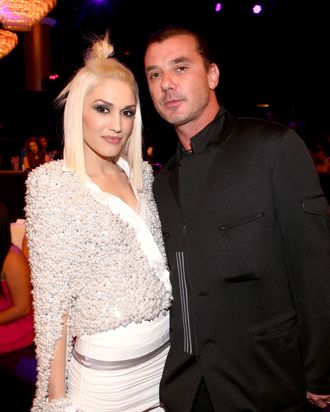 RIP.
Photo: Chris Polk/PMA2014/PMA2014/Getty Images
Gwen Stefani has thankfully moved on from ex-husband and "frontman of Bush" Gavin Rossdale to a seemingly nicer and more publicity-worthy paramour, but that doesn't mean the grim and coldhearted details of her divorce from the scarf model aren't continuing to leak out. According to a report in Us Weekly, Rossdale had been cheating on Stefani for three solid years. With whom, do you ask? Their kids' nanny. But at least this time there is a modern, tech-y twist.
While Rossdale claimed that his friendship with the pair's nanny was just a flirtation, Stefani found evidence to the contrary in a particularly very modern way:
[T]he No Doubt frontwoman discovered explicit texts between Rossdale and the nanny — including nude photos of Mann and their plans to meet up for sex — on the family's iPad. 


"The iPad was linked to Gavin's phone," a family source tells Us. "One of the other nannies discovered the exchange and told Gwen." 

Cheating on your wife with the nanny isn't very original but some dudes never learn.