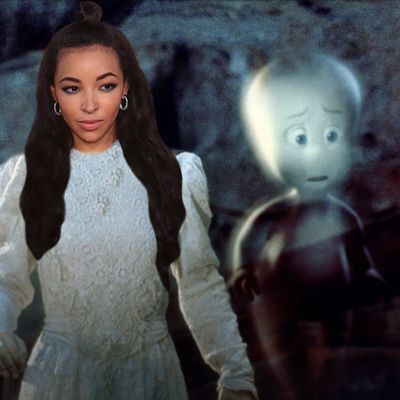 Tinashe is on the hunt for her own Casper.
Photo-Illustration: Getty Images, Universal Pictures
Looks like novice Ghostbuster Selena Gomez's documented fascination with paranormal activity has encouraged other celebrities to be more open about their desire to commune with the otherworld.
In an interview with Dazed, singer Tinashe also claims an interest in seeking out the spirits that exist all around us:
"Wanna see my ghost hunting photos?" she asks.

"Of course," I say.

Within seconds, she opens a folder on her iPhone, revealing photos taken at a 13th-century French castle where she captured images of mysterious orbs – reputed in folklore to be angels or pure spiritual energy – and broadcast them to her thousands of fans on Snapchat. The supernatural, it turns out, is a bit of a fixation for Tinashe. We conspire over this unlikely mutual interest, musing over what it all means. We agree that, when it comes to this – and most anything else – possibilities are more interesting than proof. "It's just a lot of fun to think about!" she concludes.
Spooky, scary, and so on-trend. If one more famous person admits to tracking spirits, we'll have to add "ghost hunting" to the list of "just like us" celebrity hobbies like working out or eating one square of dark chocolate after a meal.