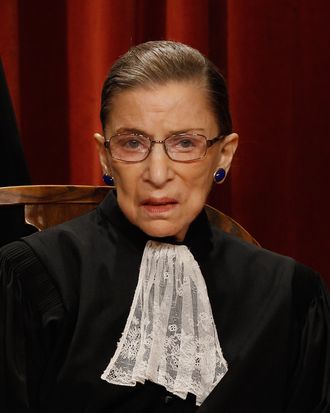 Photo: Chip Somodevilla/Getty Images
Seventeen and in love with Martin "Marty" Ginsburg, a young Ruth dreamed of their future together. Sure, they'd marry, but they also decided to go into the same field. Turns out law wasn't even the top pick.
In a conversation with her BFF Gloria Steinem and the writer Philip Galanes, the Notorious R.B.G. mentioned that she almost ended up a doctor. Thanks to the world's most boring sport, the couple made a decision not to pursue med school.
Marty had a consuming interest in golf and played on the Cornell golf team. So medicine was out because chemistry labs were in the afternoon. For some reason, he wanted to go to Harvard, and the business school wasn't taking women. So that left law.
When she entered Harvard Law School in 1956, she was one of nine women in a class of 500. Upon arriving, the female students were invited to meet with the dean, where they were asked how they justified taking a deserving man's spot. "I gave him the answer he expected: 'My husband is a second-year law student, and it's important for a woman to understand her husband's work,'" Ginsburg said. Did she believe it at the time? "Of course not!"