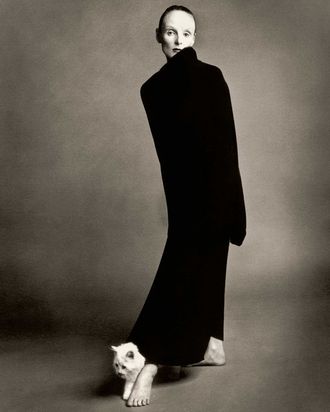 Grace Coddington in 1992.
Photo: courtesy Grace Coddington
Before this month, if you wanted a copy of Grace Coddington's 2002 retrospective, Grace: Thirty Years of Fashion at Vogue, you'd have to shell out thousands of dollars. It was never meant to be limited edition, but the original run of only 5,000 wasn't near enough for the demand, and the publisher — Karl Lagerfeld's Edition 7L — wasn't interested in a reprint. Phaidon, though, was more than happy to take the job, as well as a second one: another book by Coddington, out next fall. Just in time for the re-release, the Cut talked to Coddington about her career working with the world's top photographers, from modeling in the '60s to today at American Vogue.
What was it like to revisit 30 years of your work, both originally in 2002 and again now with the re-release?
Well, I actually use the original printing for reference all the time. I think it's the most used book at Vogue, and not just by me. Everybody around is always coming and borrowing it and wanting to look at it again; everybody's always referencing. It's been useful for that, because all of the shoots are dated and there's an index in the back.
How did you originally go about deciding which shoots made the cut? Do you think you would have made a different selection today?
I always have a hard job cutting things down. I worked with Michael Roberts on it, and he's always teasing me because he edits things out and I edit them back in again, though the ones that survive through both of us are the stronger pictures. I think it would have been pretty much the same as back in 2002, and I only know that because I'm working on the second book, and it's exactly the same: he edits it out, I edit it back in again, and he gets maddened by me. [Laughs] I'm emotionally attached to every picture, and there's so many reasons why one is in there: I love the girl, I love the dress, I love the photograph. And they all have memories. They are, actually, my life. I know I'm not in the pictures, but I'm behind every picture.
Do you have a favorite one that's in there?
There's a couple from Bruce Weber: One is a story we did inspired by Edward Weston, and another one that's the last story in the book, done in an English garden with twigs and branches and things on their heads. There's some I love from Steven Meisel, because I think the fashion is so strong. There's a couture story I did with him with Linda Evangelista and Kristen McMenamy at an amazing moment for couture, and there's a couple of Chanel outfits with sort of crazy hats by Philip Treacy, two girls walking along in one of the chateaus outside Paris. There's one where we made all the girls into rock-and-roll characters, which is very funny. And the trips I've done with Arthur Elgort are certainly very memorable — my favorite is my Mad Max one.
I like Ellen von Unwerth a lot, and we did one called the Piano Lesson, where we went to Jamaica with great big John Galliano dresses on the beach. That was wonderful. Dreamy. They're all pretty dreamy, actually. I mean I'm such a dreamy person. And they're all pretty romantic, even if they're quite tough. That's the kind of common denominator, I think, about my work and my life.
In the original book, you describe how hair stylists and makeup artists emerged in the '70s, and there's a note in this updated version about how teams have become even bigger, with celebrities often replacing models. Are you nostalgic for the earlier parts of your career?
I long for more time, which is something nobody has these days. And yes, the teams have gotten bigger, and I did like it when they were smaller and everything was more personal. If you've got 20, 30 people around you, you start worrying about the 20, 30 people instead of the pictures, and you can't get around so easily. Back in the day, you could all just jump in a car and drive off, whereas now, it's a whole crazy procession of vans and cars and Winnebagos with walkie-talkies that all have to keep in contact with each other. And it's certainly different to work with a celebrity to a model, because it does sort of more dictate what you'll be able to do — they're not so available, and they're not always model size.
Do you prefer models?
Yes, I think I've said that several times. [Laughs] I mean, I used to be a model.
What can you tell me about the upcoming book, which is slated for next September?
It's supposed to be a reflection of what I have been up to for the last 15 years or so. The first book has a lasting quality, and the second one has a very different modernity about it, because of adding the newer, younger photographers. They're not all that young — people like David Sims and Craig McDean are the more modern ones, but they do have a different eye and a different take to the ones in the first book. A lot of the photographers overlap, like Meisel, Peter Lindbergh, Annie Leibovitz, Bruce — but everybody evolves and changes, it's very interesting. I ended with Bruce in the first and I begin with him in the second book, and he's one of the few people who still shoot film, but his pictures have changed enormously just in those ten years, and you see how his take on life now has changed. Everything's changed, so people change with it.
Have you seen yourself evolve, too?
Probably not. [Laughs] I've probably got more professional just from an extra ten years' experience. Obviously, since moving to America, there's more available. Shoots at American Vogue are very different to shoots back in the '60s, '70s British Vogue — there's more money and all sorts of things involved. It's more professional these days, for want of a better word.
Click ahead to see some of Coddington's work, including photos of Naomi Campbell with Mike Tyson, Shalom Harlow in Morocco, and Stella Tennant with a baby Ansel Elgort.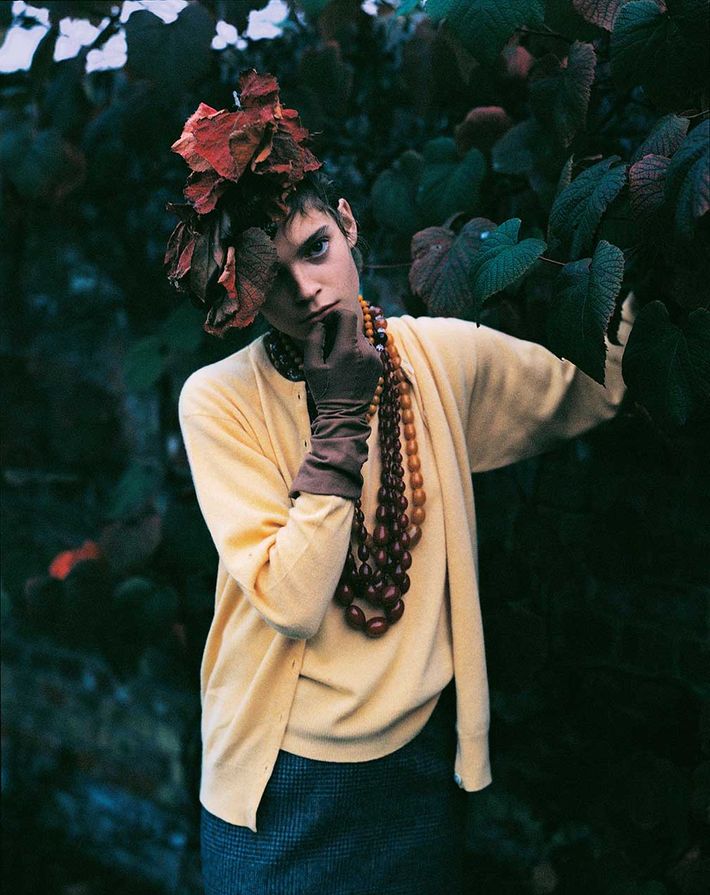 "In 1984, when Karl Lagerfeld unveiled his own collection, Bruce and I did the campaign, which we shot in the woods of Brittany. Looking to balance the pictures with a few boys, Bruce recruited two passing hitchhikers. The only problem was that we had no clothes for them, so I quickly made a suit out of leaves and branches. A few months later, we went a stage further for British Vogue, this time in an English garden that had a greenhouse full of fried flowers. The shabby grandeur of the place matched the mood of the clothes — matronly pre-Karl Chanel suits worn with the layered cardigans and wilted raincoats of eccentric English aristocrats." Victoria Lockwood photographed by Bruce Weber. England, 1984.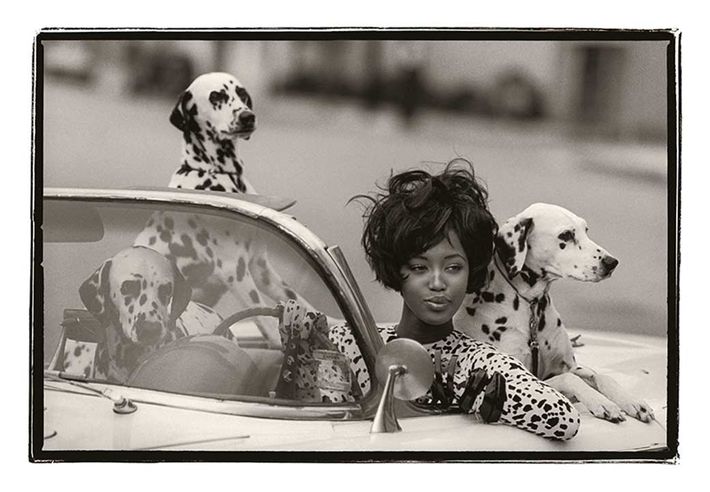 Naomi Campbell photographed by Peter Lindbergh, 1990.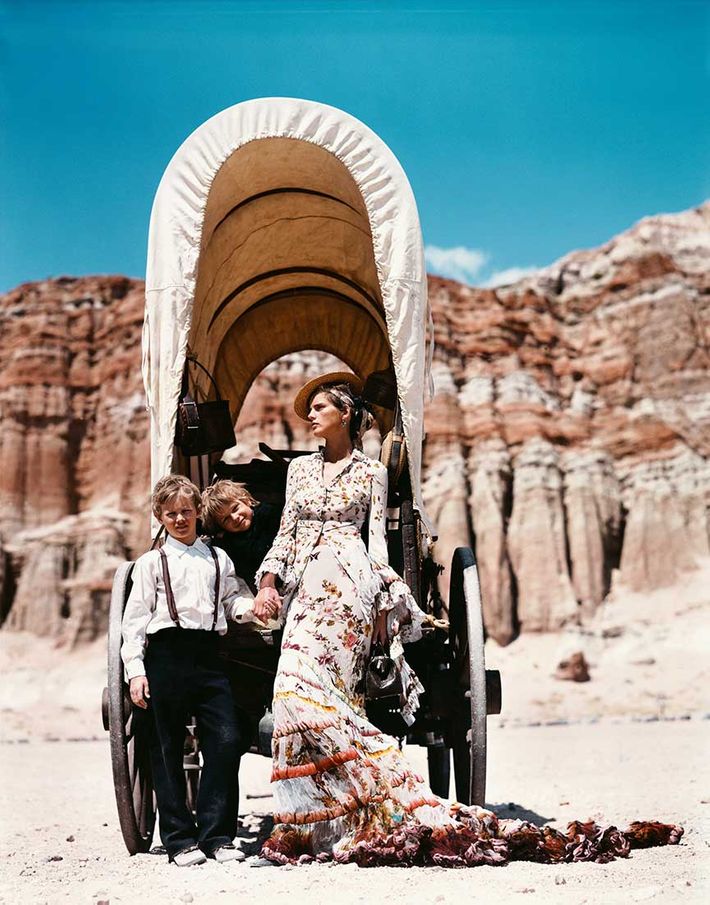 Warren and Ansel Elgort with Stella Tennant in Gaultier Paris, photographed by Arthur Elgort. 2001.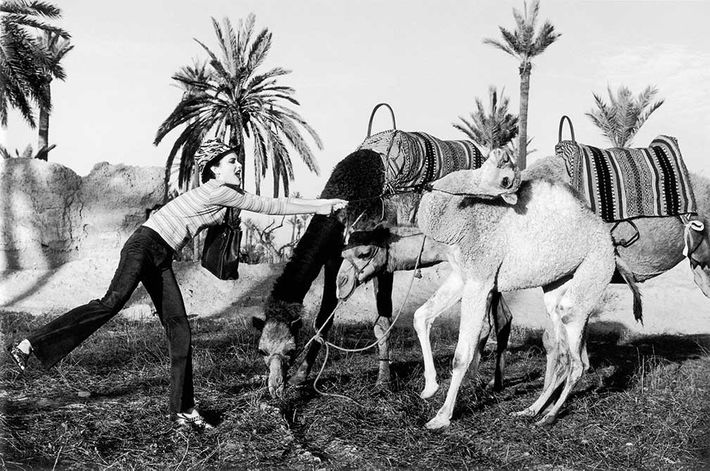 Shalom Harlow photographed by Arthur Elgort. Morocco, 1996.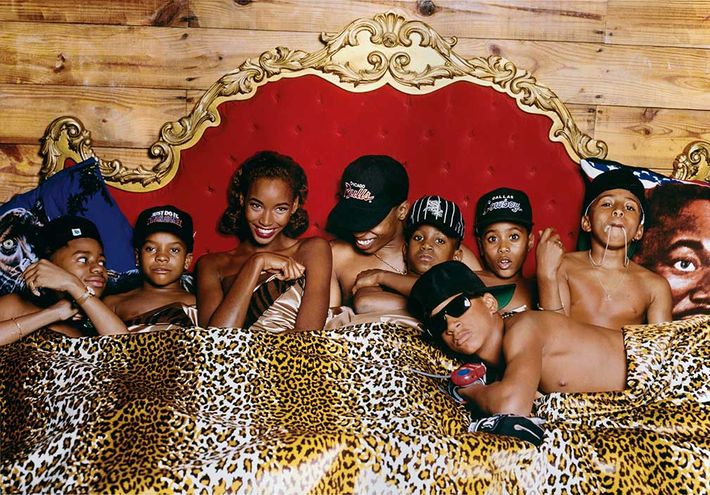 "For an issue of American Vogue that turned fairy tales on their head in the process of making them into fashion stories, Bruce imagined a Snow White who didn't look like a literal description of her name. We cast the model Beverly Peele as the heroine, the rap group Another Bad Creation as the Seven Dwarfs, and Aretha Franklin, wearing a couture muumuu by Chanel, as the Wicked Queen." Beverly Peele and Another Bad Creation photographed by Bruce Weber. 1991.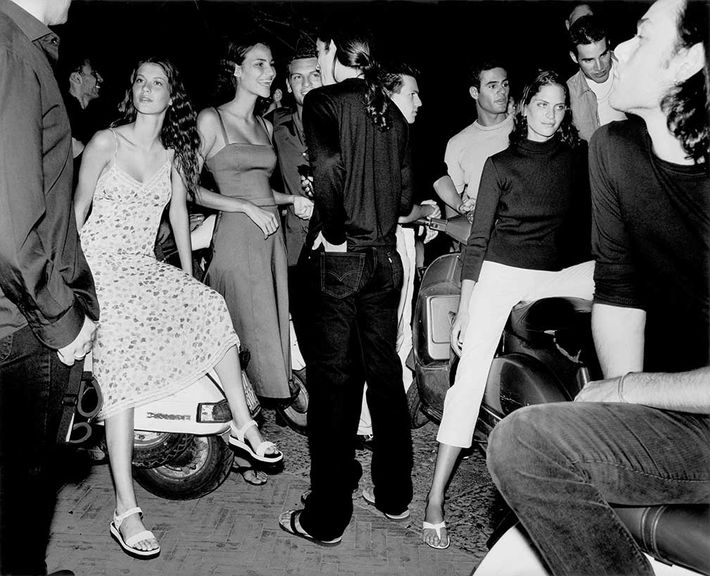 "You can almost hear the catcalls in Mario's photographs." Gisele Bündchen, Frankie Rayder, and Fernanda Tavares photographed by Mario Testino. Italy, 1998.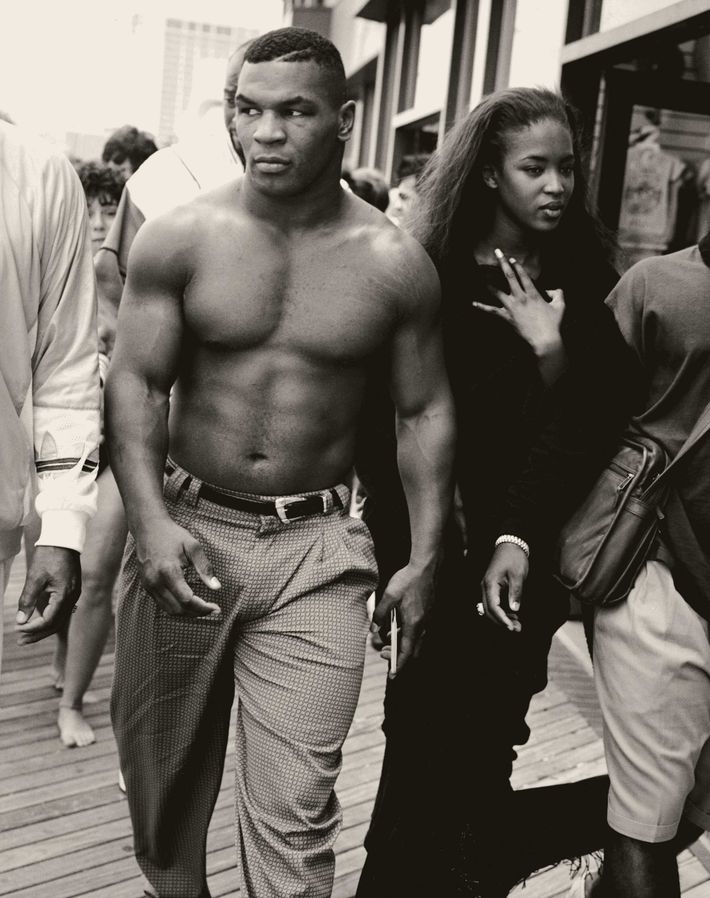 "In 1989, when Naomi Campbell was dating Mike Tyson, Bruce wanted to photograph him, but the boxer was on a strict training schedule in Atlantic City for a big bout. With Naomi's help, Tyson finally agreed to give us some time — about three minutes. It was an ordeal."  Mike Tyson and Naomi Campbell photographed by Bruce Weber. 1989.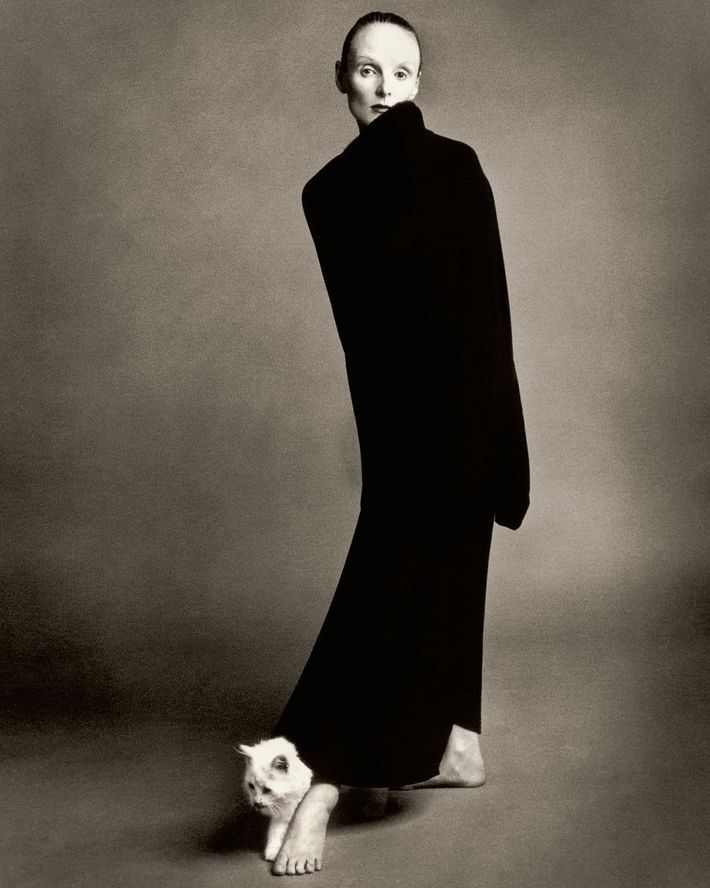 Grace Coddington photographed by Steven Meisel. 1992.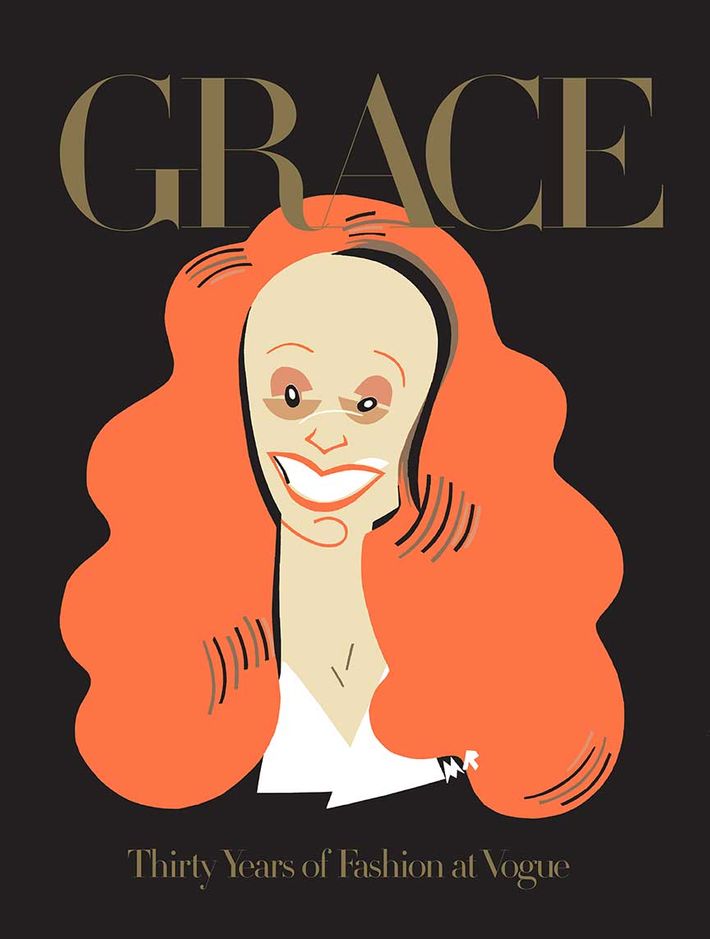 Cover by Michael Roberts.