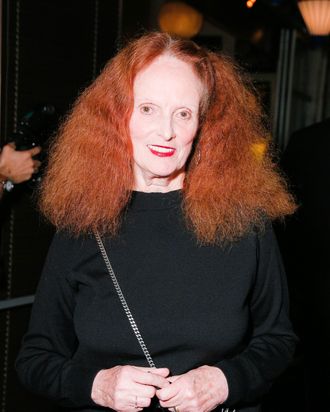 Grace Coddington.
Photo: Matteo Prandoni/BFA.com/BFA NYC
Alber Elbaz may have been converted to Instagram after some initial reluctance, but not everyone in fashion is merrily snapping and double-tapping away. Grace Coddington told Vogue, "I hate Instagram, actually. I think it really interferes with people's lives and things and it's pathetic how everyone's photographing everything they're eating all the time." Well, there you have it! 
It sounds like the rancor stems from an incident last year when Coddington posted a nude selfie (hey, it was a cartoon!) and subsequently had her account taken down, presumably for freeing-the-nipple reasons. She still updates her account, though — with plenty of cat photos — so maybe she can be brought back into the fold. This sounds like a job for Eva Chen!