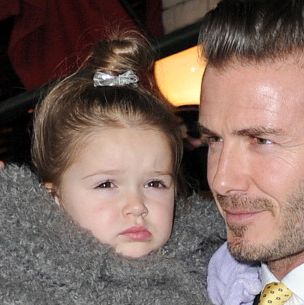 Harper and David Beckham.
Photo: Josiah Kamau/BuzzFoto
Harper Beckham is hard to impress. Hanging with mom? Bo-ring. Front row at a Burberry show? Whatever. Still, Anna Wintour is reportedly "besotted," and David Beckham continues to spoil her even after she called his notoriously chiseled bod "so chubby."
If you think she might feign some excitement upon meeting a real, live prince, you'd be dead wrong. At a charity soccer match this weekend, the Beckham children lined up to meet Prince Harry. In a video that surfaced on Hello!, two of her older brothers can be seen giving the redhead firm handshakes.
Harper gives him a fake-out, swinging her arm around before reluctantly handing her sweater-clad digits to the prince for a quick shake. After being snubbed by a 4-year-old, Harry dashed off. As for Harper, she just yawned.