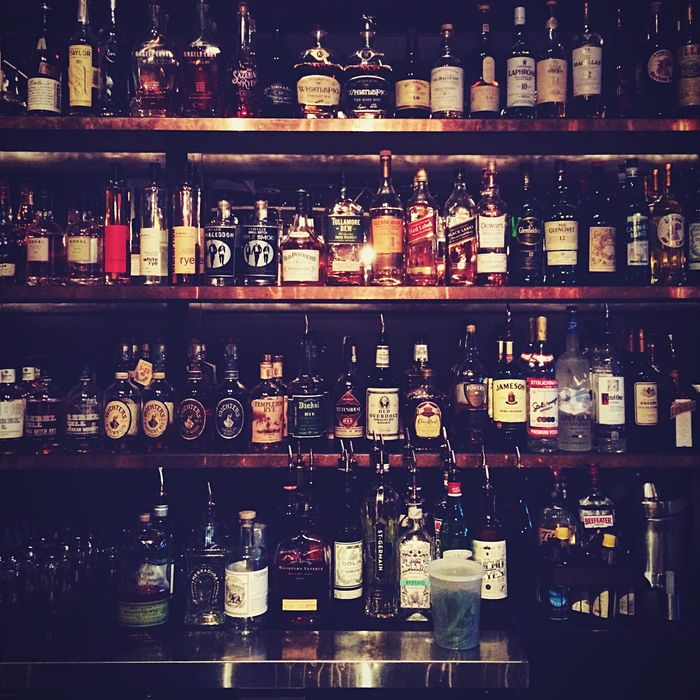 Photo: Jan Christian Bernabe / EyeEm
New York's Sex Diaries series asks anonymous city dwellers to record a week in their sex lives — with comic, tragic, often sexy, and always revealing results. Check back Sunday nights for your weekly peek behind doors left slightly ajar. This week, a 25-year old hostess with a restaurateur boyfriend and a bartender crush: female, 25, East Village, bisexual.

DAY ONE
9 a.m. I'm not going to lie: I wake up in my boyfriend's arms and think, Who is this hairy, sweaty beast, and why is he in my bed?  It's not that I don't love him — I do. It's just that I woke up in a woman's arms for the last two years, and that is like waking up in a lavender field compared to this.
 
9:30 a.m. My boyfriend has a hard-on; he wakes up SO horny. I straddle him. I like riding him in the morning because we don't kiss (morning breath) and I can bury my head into his neck and use my imagination. Today I pretend I'm fucking a woman and wearing a strap-on. I'm really giving it to her.
 
Noon I head to my job at a New York restaurant. I'm a hostess. My boyfriend owns another New York restaurant — we met at a fund-raiser for people in the hospitality industry. I'm 25, and he's almost 40.
 
6 p.m. Tess, the bartender, arrives. She is a full-blown dyke, but a very pretty one. When I told her I was in a two-year relationship with a woman recently, she started looking at me differently. There is some sexual tension now, but nothing has happened.
 
Midnight I ask my boyfriend if fucking Tess would be considered cheating. He says it would be okay if he watched. Fair enough, although I can't help but think that's an unoriginal, piggish answer. Again, I miss co-habitating with a woman … my ex had a ton of issues, but the words she used were pure poetry.
 
DAY TWO
9 a.m. I wanted to do something more meaningful than seat rich New Yorkers at corner tables, so I started volunteering. On Tuesdays, I go to inner-city schools and help out with art and music. On Wednesdays, I work with special-needs kids. Both jobs are extremely important to me. My boyfriend doesn't really have the same sense of compassion — he's not a dick, but he's kind of fratty. I try to tell myself he doesn't need to see the world exactly the way I do. But I don't know; maybe I'm undervaluing the importance of having a similarly constructed heart.
 
3 p.m. I head to the restaurant. Tess loves hearing about the kids. She pours me a Diet Coke with a splash of whiskey to start the shift. She's on and off with some strung-out dancer. Sounds like a nightmare. Tess has no tits, and I have huge ones. (I felt like making note of that.)
 
Midnight Boyfriend and I get home around the same time. He brought food from his restaurant, and we eat it with some wine. He rubs my feet. We make out on the couch. He fingers me, then eats me out. I think he snuck a finger in the butt. God Bless America.
 
DAY THREE
9 a.m. Today is my Special Needs gig. I love these kids so much it hurts. Literally, my heart throbs with both love and pain for them.
 
3 p.m. I go to the restaurant. Tess is wearing a tank top with no bra. My ex was voluptuous like me … so fucking her was really like fucking a woman, and that's precisely what turned me on. I loved my ex's perfume, her black bras, how her legs felt so smooth after she'd shave them and put lotion on them. Tess's boyishness is intriguing. I assume she'd wear the strap-on and sex would be a lot less luscious, but who knows?
 
Midnight My boyfriend is home by the time my shift ends. The apartment smells like a fart trapped in a hot dog. Men are fucking disgusting.
 
DAY FOUR
9 a.m. Double shift at the restaurant. It's Tess's day off. I miss her from the second I arrive.
 
Noon My boyfriend swings by. Everyone loves him — there's nothing not to love. He's handsome, nice, and successful. He doesn't cheat on me. He's not a drunk or a druggie. He is a class act.  That he doesn't have a delicious-tasting pussy is not his fault.
 
3 p.m. I ask the manager for Tess's cell. I want to text her something funny about one of our regulars.
 
5 p.m. Tess and I text for hours. It's funny how once you start the text game with someone, things escalate fast.
 
9 p.m. Before I know it, I'm texting Tess a topless pic of me in the bathroom. I desexualize it (sort of) by saying something like, "Seeee, I'm so bored without you!!!"
 
11 p.m. Tess asks if I want to meet up after my shift. And just like that, the temperature between us has changed. I have a gnarly pimple brewing and don't feel like this is the night to be all sexy for her. Also, do I really want to cheat on my boyfriend? It's been six months, and I've never strayed. I'm not a cheater by nature either.
 
Midnight I tell her meeting up is asking for trouble. She agrees. It's all very lighthearted and sweet. I head home.
 
DAY FIVE
9 a.m. Morning sex with my boyfriend. It makes him very happy. I have an orgasm, too; but not, like, an earth-shattering one. Usually I need a lot of oral for those killer cum sessions. He knows my ex is a woman but he thinks it was just a trendy millennial thing … I don't think he realizes it's because I absolutely love and crave the taste/feel/smell/touch of women. I like men, too — and I want to get married to one and have a family with one. I guess I just want it all!
 
11 a.m. Day off from volunteering and restaurant. I catch up on laundry. I masturbate while lying on my stomach and rubbing my clit with my right hand, starting over my underwear until I'm nice and wet. I pretend I am a rich housewife and the person touching me is my sexy, promiscuous nanny. Haha!
 
5 p.m. No texting with Tess.
 
Midnight Boyfriend comes home and I pretend to be asleep. I've masturbated three times today and have no desire to fuck.
 
DAY SIX
9 a.m. Another day off from both gigs. I decide to go shopping. I start in Soho.
 
1 p.m. After just two hours, I'm drained. I walk into a little café and order a white wine, and after just two sips, I'm compelled to text Tess.  She's at the restaurant. I tell her to fake sick and come meet me.
 
2 p.m. Tess isn't going to fake sick. I am on my second glass of wine. I ask her to describe sex with her girlfriend. I know I'm being provocative, but I'm also curious! I want to be informed. I don't really know how butch lesbians like to get off. Call me naïve.
 
5 p.m. I'm back home. My boyfriend and I are trying a new restaurant tonight — I put on a new outfit and get ready. I love date nights with him; we have a great time together. He makes me laugh. My mother always said to find a man who makes you laugh. With women, there's always a dark side. (Of course, I'm drawn to that as well.)
 
6:30 p.m. We meet at his restaurant first. This always turns me on: I like feeling like the boss man's lady. It's hot seeing him in action. I sip a Negroni while watching him finish up. Could I be this person's wife?  In the heat of this moment, I feel like the answer is yes — there's NO RUSH, though.
 
8 p.m. Over dinner, my boyfriend says he's thinking about opening a place on the Cape and wants to know if I'd move there with him for a few months. I tell him I need to think about it, but I think I would … I'm excited for him/us.
 
11 p.m. We come home and "make love." It's slow and beautiful. That sounds incredibly cheesy, but I don't know, I think "making love" is really a thing.
 
DAY SEVEN
9 a.m. Back at the restaurant. Back to the grind.
 
3 p.m. Tess comes in for her shift. She's had a doozy of a fight with her girlfriend and seems distraught. She makes me a Diet Coke with whiskey and begins to tell me about it. The girlfriend sounds like a real piece of work. Tess is pretty upset. Even if it was rooted in flirtation or desire, I am happy we've gotten closer and she confides in me.
I doubt we will ever fool around. I have the Cape on the brain now, and Tess is seeming more like a real person, not just some lesbian fantasy object.  Also, when push comes to shove, I don't think I'm sexually attracted boyish women. But never say never.
Want to submit a sex diary? Email sexdiaries@nymag.com and tell us a little about yourself.