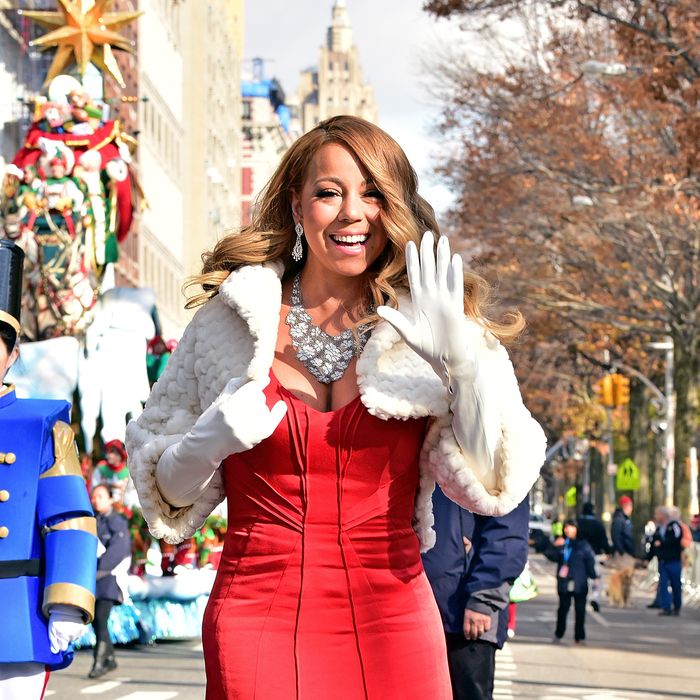 Mariah Carey.
Photo: James Devaney
Yesterday, Gwyneth Paltrow was in the vicinity of Chris Martin and marshmallows. Kris Jenner shared a table with Caitlyn Jenner and their ever-expanding clan. Forced or not, Thanksgiving means family, and that means we get to see Drake's mom. Here's how celebrities did America's most gluttonous holiday.
Reese set the table.
Diddy invited his mom over.
Goop invited as many people as she could fit between her and her ex Chris Martin.
Mariah Carey was in the Macy's Thanksgiving Day Parade.
Justin Bieber honored a different holiday tradition by creating a Pinterest-worthy photo of his afternoon.
Kim called herself "so Thankful that me & my friends were the Spice Girls for our high school talent show!"
Model Chrissy Teigen posed with pie.
So did Gigi and Bella.
J.Lo made pie, too.
Khloé made more than just pie and hosted the whole fam.
Kylie gave thanks for her "blended family."
Drake took his mom to a basketball game.
Meanwhile, Nicki Minaj geared up for more food. "We're about to do #round2," she captioned the photo.