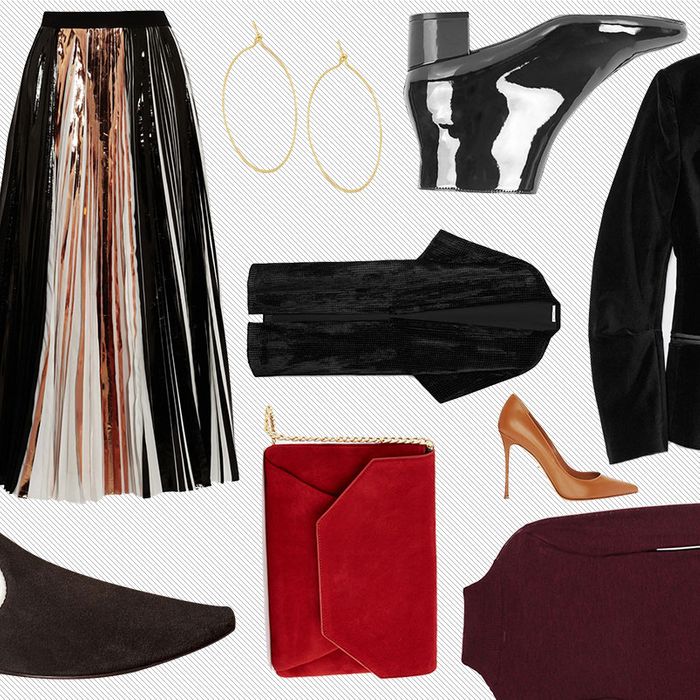 A weeklong series on the art of entertaining, for women who are too busy for Pinterest.
Picking out your outfit when you're throwing a party involves juggling some contradictory goals. You want to look like you put some thought into what you're wearing, but you also want to reserve the majority of your mental energy for other, more important things, like arranging the hors d'oeuvres. Luckily, we've got you covered. Scroll down for eight outfit ideas so easy you'll be able to get dressed in 10 minutes or less.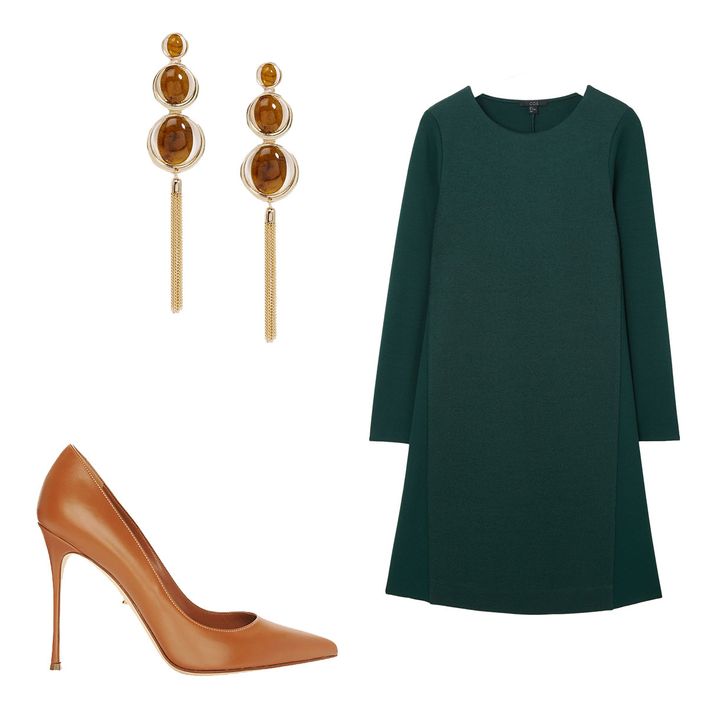 Let's say you're hosting your first dinner party and you're already panicked about burning the turkey and spilling the drinks. What you need to make life easier is a foolproof dress with simple accessories, like this sheath dress from COS in a festive forest-green. Dress it up a bit with nude heels and flashy earrings.
ASOS earrings, $22 at ASOS; COS dress, $99 at COS; Sergio Rossi heels, $615 at Intermix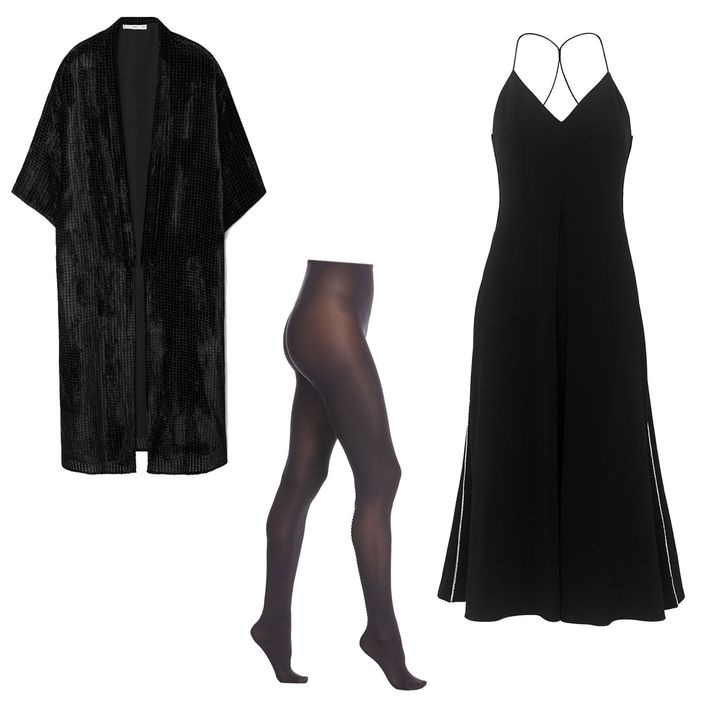 If you're putting together a fancy dinner and plan to make everyone take their shoes off, don't worry too much about footwear. Instead, try this sparkly caftan paired with tights and a black, flowing dress to look elegant, even in your stocking feet.
Whistles dress, $250 at Whistles; Mango Caftan, $129 at Mango; Wolford Tights, $115 at Neiman Marcus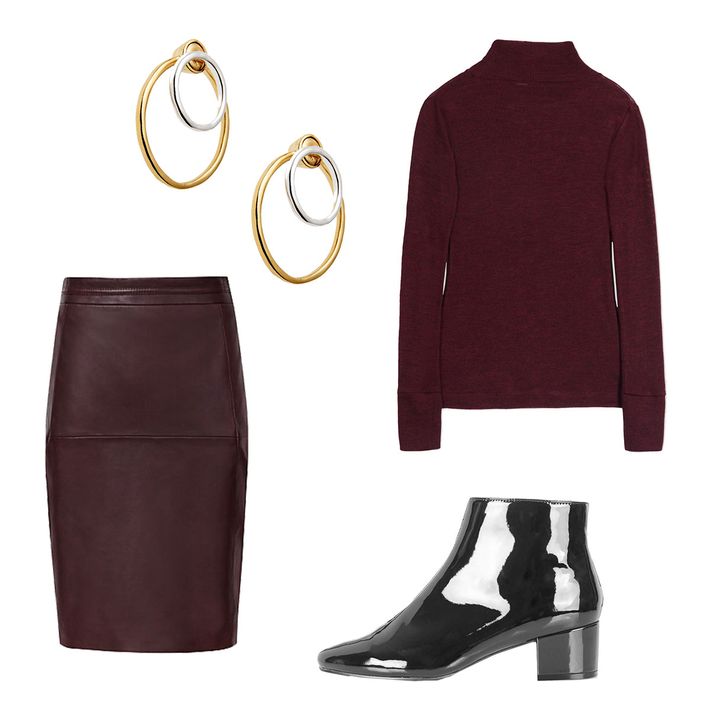 Hosting a friendsgiving? You'll obviously want to be casual, but that doesn't mean you can't still look cool. We love the combo of this maroon T by Alexander Wang sweater, leather Reiss skirt, and booties. It's fun and comfortable at the same time.
Topshop boots, $60 at Topshop; Reiss skirt, $195 at John Lewis; T by Alexander Wang sweater, $211 at the Corner; Bjorg earrings, $244 at Yoox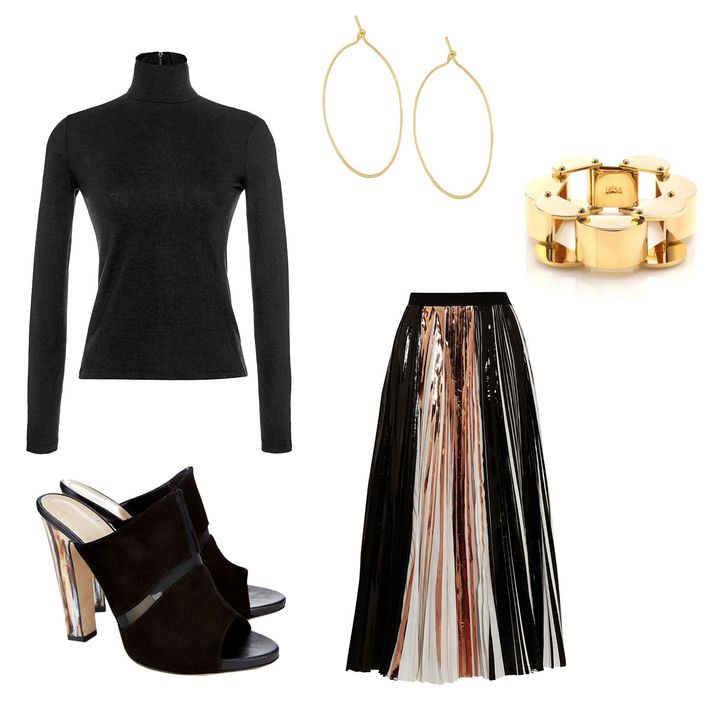 Say you're having a fancy dinner catered at your first Big Girl apartment. Clearly, you'll need an outfit to match the ambience. To stun your guests, try this foil-printed Proenza Schouler skirt and a chic high-neck turtleneck with gold jewelry.
Proenza Schouler skirt, $1,990 at Moda Operandi; Maiyet mules, $605 at Avenue 32; Brooke Gregson earrings, $880 at Net-A-Porter; Martin Grant turtleneck, $855 at Moda Operandi; Lele Sadoughi bracelet, $295 at The Editorialist;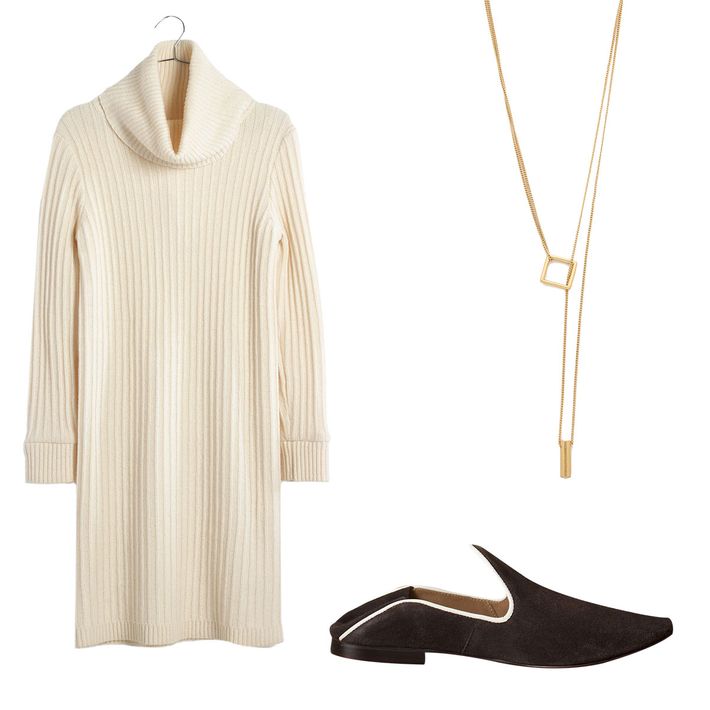 A hung-over brunch calls for something really lounge-y. Try a comfy sweater-dress and lariat necklace, with loafers to class it up a bit.
Madewell dress, $128 at Madewell; Trademark mules, $268 at Trademark; Madewell necklace, $24 at Shopbop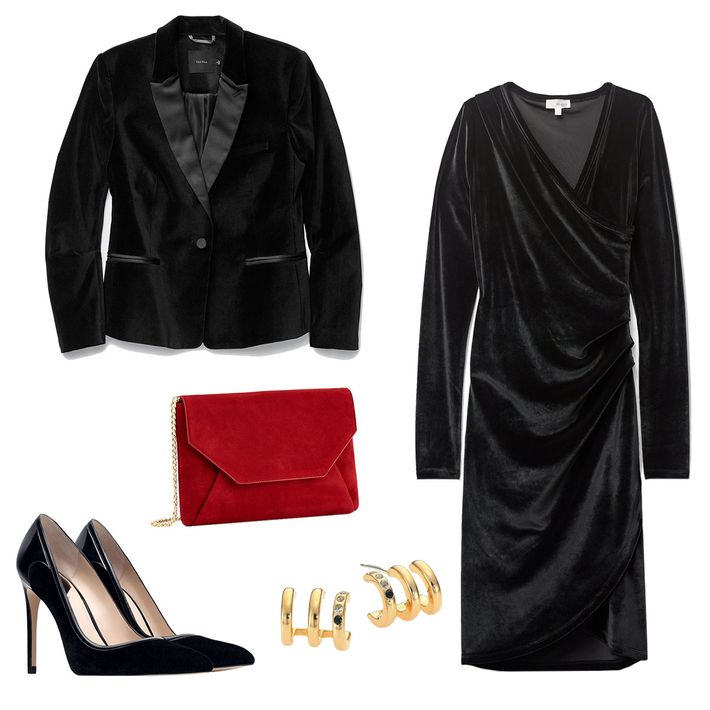 The first time you have your significant other's family over, you'll want to look put-together but not so uptight that you could recycle the outfit for your next job interview. Keep it festive by wearing this velvet Aritzia dress with matching blazer and a red clutch for color.
Aritzia dress, $90 at Aritzia; Aritzia blazer, $185 at Aritzia; Zara heels, $69 at Zara; Ann Taylor bag, $118 at Ann Taylor; Elizabeth and James earrings, $125 at Saks Fifth Avenue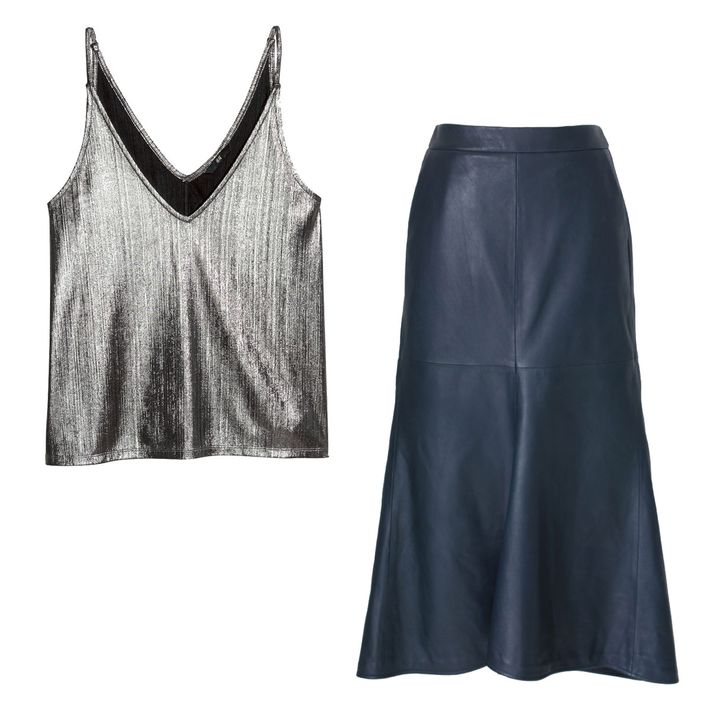 If you want to wear something fancy but don't like sequins, red, or green, go for modern metallics and rich materials, like this silver metallic H&M slip with a leather skirt.
H&M top, $29 at H&M; Tibi leather skirt, 625 at Tibi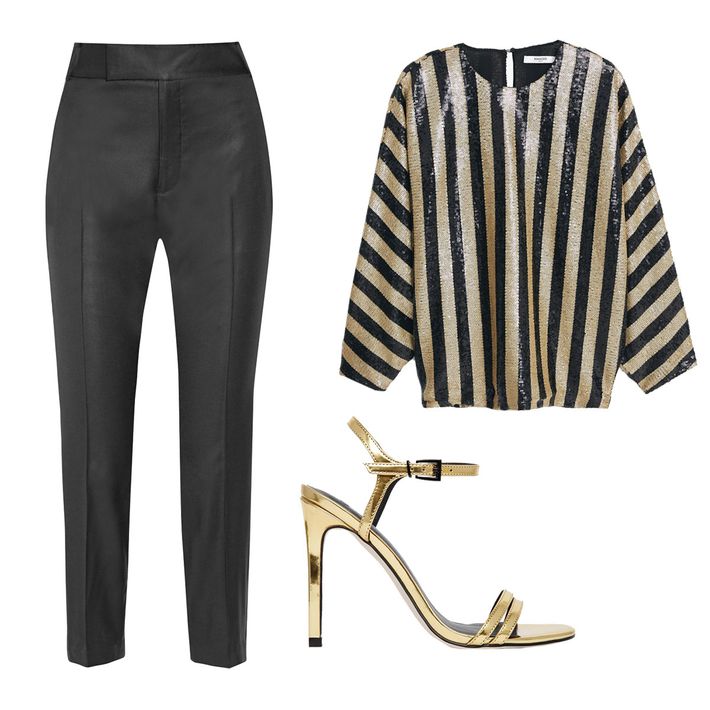 If you really don't have time to mess around, what you need is a hero piece like this Mango sequined top. Pair it with tailored black pants and heels, and boom: It's a party.
Mango top, $79 at Mango; ASOS heels, $63 at ASOS; Helmut Lang pants, $190 at The Outnet