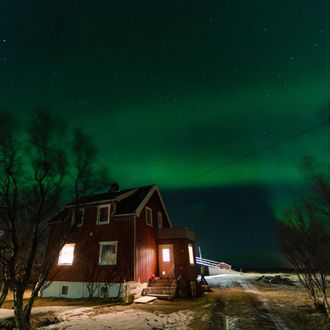 Photo: Sergio J. Pitamitz/Corbis
It feels like some kind of eerie second coming of spring in New York this week, but, alas: Winter, as they say, is yet coming. To mentally prep for the cold and dark days ahead, writer Laura Vanderkam at Fast Company suggests stealing a page from the Norwegian book of winter or, at the very least, a single word: koselig. 
This is a handy word that essentially means coziness. "It's like the best parts of Christmas, without all the stress," Vanderkam writes. "People light candles, light fires, drink warm beverages, and sit under fuzzy blankets."
Kari Leibowitz, a Ph.D. candidate at Stanford University, recently spent about ten months in Norway on a Fulbright scholarship, and she tells Vanderkam that during her time there she studied the mental health of Norwegians. Why, for example, are their rates of seasonal depression relatively low, despite the long, harsh winters? The answer, Leibowitz argues, might have a lot to do with keeping a koselig mind-set. With it, winter becomes a kinder, cozier season, one that's not meant to be dreaded, because it comes with its own perks: skiing, bundled-up walks, an excuse to drink hot chocolate whenever the mood strikes.
It's a nice sentiment, but, then again, let's not forget that in Norway winter means the awesome beauty of the northern lights; in New York, especially after the lights of the holiday season dim, it mostly means giant slush puddles.