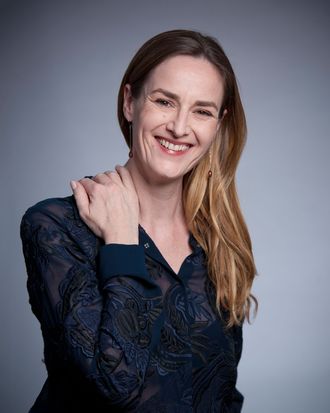 Céline Ellena of Hermès likes interesting candles.
Photo: Courtesy of Hermes
You created a scent for New York called A Shop Around the Corner. What was the process like?
Last year I was in New York in fall. I was walking through the streets, and what an energy! Suddenly, while walking, I had the feeling that everything stopped because there was a smell, typical for New York, and it was coming from a florist, you know, the little shop that you have on the corner? It's made with lily and with eucalyptus, and this fragrance was so shiny, so smooth, and very comfortable. This fragrance for me was the balance between the energy of New York and something very tender.
As a perfumer walking around in New York, are you just assaulted by smells? We do have a lot of smells, some unpleasant.
No, never. Yesterday afternoon my father and I walked around, and it was always, "You smell this? You smell that?" It's so funny. Each time I travel, the first smell I have is the airport, JFK. JFK smells very spicy. You have the smell of the food, the fat, very juicy fruits, a little pineapple. So it's between spice and pineapple.
How is a home fragrance different from a perfume?
For me, home means protection. It's a place where people are safe, and it's a place where people can dream and be comfortable. When you leave your home and go on vacation, when you come back, you open the door, you feel good because you smell your home. Your grandparent's home does not smell the same as your friend's home. I didn't want to destroy this feeling with a candle scent. When you burn the candle, the fragrance has to mix with your own fragrance and have a perfect balance.
It is not very interesting to make a fragrance of a rose, fragrance of cinnamon. You can find that anywhere. It doesn't mean anything except rose, and if I want to offer you a rose, I would prefer to offer you a bouquet. That's nicer. So I imagined a story.
Usually when people talk about candles, they seem to be designed to obscure a scent.
No, I don't want to change it. Your own home is so important. You take so much time to give an atmosphere to your home. Imagine that because of a candle, everything disappears? No, that's not possible.
If not to change the scent of your home, what is the purpose of a candle?
The light is very important because it's warm. It is very peaceful, too. A candle also takes time to burn. Time stops for a while. We are always running, but a candle needs to take the time to burn. It's also a fire symbol, and the fire is a very important place. It's a place where we are together, talking and sharing and getting warm. That's a little symbol of the home.
Your dad has said that he considers perfume to be a selfish thing. Do you consider home fragrance to be selfish?
I think it's personal, but not in the same way. With fragrance, you give an image of you, but home fragrance is totally inverse. You take your mask off, because when you're at home you are yourself. It's the only place where you can be yourself. That's the difference.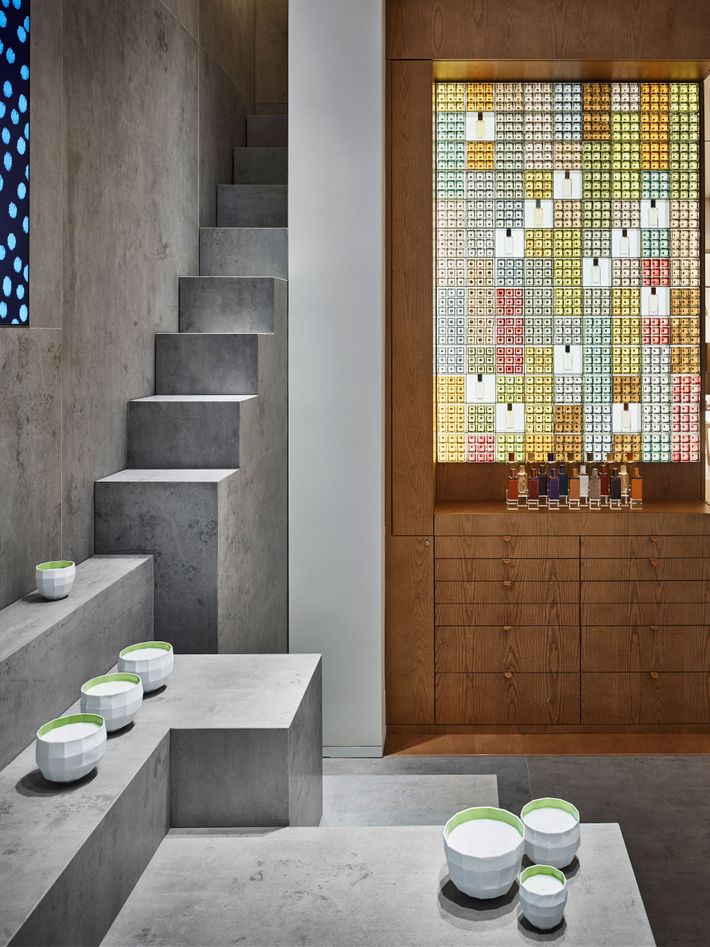 If friends come to your home and you have a candle, and they don't talk about the fragrance but they just feel good, that's very important. The candle is the smell of your home. You see the difference? If the home fragrance disappears, I think it's a good fragrance for your home.
Tell me about the shape of the candle — it's a very organic-looking design.
The designer is named Guillaume Bardet. He's a French designer. In designing the candle, we think about the perfume, but also the time. The fragrance disappears, but you still have the object. We wanted it to symbolize paper. Paper is very fragile, and this candle's outside is designed not to be perfect because when you have perfection, you have nothing else to say. There is a story between the shadows, the light, you see? It's about time passing.
Why did you not want it not to look perfect?
Because I don't like perfection. You know that life is not perfect but you can enjoy it. People don't have to be perfect to be great. Everyday life is not perfect, you know that.
People probably assume that everything at Hermès is perfect.
Yes, but that's boring. Home fragrance means everyday life: sometimes up, sometimes down. That's life.
What do you think your home smelled like growing up?
Do you know exactly what your own skin smells like?
No, it's really hard to explain, right?
It's very hard to explain. You can explain the home fragrance of other people. The skin of your lover, the skin of your children, but yourself, you cannot. I have the same problem.
What would you say your first scent memory is?
We were living in Geneva, Switzerland. It was winter and very, very cold, and I had my nose on the window, looking outside. I asked my mother when winter would finish. I remember the smell: It was very mineral, very icy, and a little dusty also. It was not very clean, and it was a little harsh.
Or it was with my grandpa, who was also a perfumer. He was also a gardener, and would bring me around his garden, and always doing this [digging motion] with the flowers. Afterwards, he would give me his hand and say, "Smell." It was the smell of the earth, the smell of the flowers, lavender, rosemary, and everything.
As a perfumer, if you have a cold or something that affects your ability to smell, are you still able to work?
Everything is inside. It's totally abstract. You make the fragrance in your mind. Just as when you are playing music, you're singing with your mind. The fragrance you create is a mind process, and you use the nose to be sure that the idea that you have in your mind is the same as the one in the fragrance. If I have a cold and I'm tired, I continue to work.
This interview has been condensed and edited.