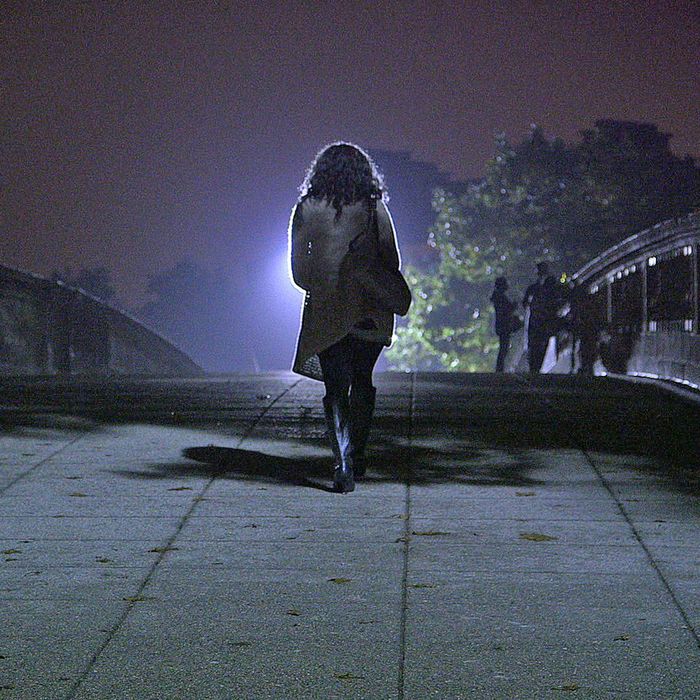 Photo: Sundance Institute
The Hunting Ground, the much-talked-about documentary about campus rape, will air on CNN Sunday, November 22. Though the film has been shown around the country — in theaters and on campuses — since it premiered at Sundance in January, this the first time it will be seen by a mass audience. The movie profiles anti-rape activists Andrea Pino and Annie E. Clark, two UNC students who brought a Title IX case against their school and helped launch a national movement.
The day before the film's theatrical release in February, 2015, the Campus Accountability and Safety Act was reintroduced in Congress, partly due to Pino and Clark's efforts. The filmmakers also spoke with dozens of student survivors around the country, including Erica Kinsman, the Florida State University woman who accused 2013 Heisman Trophy winning football player Jameis Winston of sexual assault. She is being sued Winston, now a Tampa Bay Buccaneer. There have been other criticisms of the film and its subjects, including a letter from 19 Harvard law professors challenging the depiction of the case against Brandon Winston (no relation), a Harvard student.
At a Peggy Siegal Company screening of the film we spoke with writer-director Kirby Dick and producer Amy Ziering — the team responsible for the Oscar-nominated Invisible War, on sexual assault in the military — about what colleges can do better, whether perpetrators even understand that they are committing assault, and how consent means better sex.
You've been showing The Hunting Ground on campuses — exactly where events like the one in the film have taken place. What's that been like?
Amy Ziering: Kirby and I have had  extraordinary experiences at campus after campus. It is very rare. I have been doing this for a long time, and have been on a lot of campuses with movies, and it's fairly atypical. Students show up in record numbers, and they all stay for the Q&A. It sparks discussion.
Kirby Dick: The University of California, Berkeley, wouldn't let us show the movie there. There is a real problem with Berkeley and this issue. I have heard from people that the way Berkeley is responding to this is among the worst of all the UCs. It is so surprising. But when I showed it near Berkeley, someone who was in the film — just for 10 seconds or so — came up and said "This has been so important for me, this has helped my healing process so much." We hear that again and again, not only from people in the film, but from survivors around the country. That is always really gratifying. It validates their story and they see that no, what happened to them is not their fault.
AZ: I think there is a real pent-up need and desire to talk about this issue, I think they are hungry to have an honest conversation around something that is so pervasive.
What do you expect will happen with the airing on CNN?
AZ: I hope it sparks a cultural sea change, where this issue a) becomes better understood and b) is greatly de-stigmatized.
KD : We hope when students go home for Thanksgiving, that they have these conversations with their parents.
What's causing this apparent epidemic of assaults on campus?
KD: Well, this exists throughout society. Because it has been allowed to flourish on college campuses because it hasn't been investigated or adjudicated on them. Rather than running away from this as an issue colleges have to admit that they have a problem, identify rape as a priority, put funding into it, and then keep at it. It is going to take years and years and years.  
What should colleges and universities be doing?
AZ: They need to put resources into the issue, and they have to professionalize their investigative and adjudicative processes. Once that's done, if someone commits a sexual assault the college will be in a better position to find the perpetrator responsible and, if it is appropriate to kick them off campus. And if someone is falsely accused, a robust system will protect them as well as victims.
KD: That is all the more reason to do it right, and to do it with people that know how to do it well. Will they stop all sexual assaults? No. But if they start expelling people, that will send a message to other people. And it will also send a message to survivors to report. And every time a survivor reports they are probably reporting someone who has assaulted before, and once you have multiple survivors naming one perpetrator than that is a situation where that perpetrator is very often found responsible. 
The other side of this is college presidents have to publicly speak out about this, that would send a message to the entire school that this is a priority, rather than just Title IX coordinators talking about it. The public face of the school has to step forward. If the objective and the mission of higher education is to educate students … people are dropping out of school as a result of this. Their education is being impacted because of being sexually assaulted. This is affecting the overall grade point average of the country.
Schools also need to do campus climate surveys where they can look at what the climate is and see how comfortable students feel about reporting. If you don't know the nature of the problem on your campus you're not going to be able to solve it.
Slate's Emily Yoffe has raised some questions around the case of Kamilah Willingham, who appears in the film. Do you have any comment on that?
KD: Her piece was full of outright fact errors and dozens of misleading statements. Basically what she did was take the defense attorney's statement and appear to present it objectively, but in fact it was completely twisted. The film is accurate, and we're dismayed by this. These are very courageous people that come forward and tell their story, and in Willingham's case, multiple bodies at Harvard found him responsible. There are text messages and interviews with an investigator where he essentially admitted to doing these things, and that's one of the reasons the grand jury indicted him for two of these felonies.
All of the evidence is there, so it is really disturbing to us to see someone go after these very courageous survivors because what they do is send a message to so many other survivors around the country not to come forward, and if survivors don't  come forward we cannot solve this problem, and if survivors don't come forward that perpetrator, who may be a repeat offender, may go on to assault again.
Jameis Winston has now sued Erica Kinsman who accused him of sexual assault — do you have an update on her?
KD: We stay in touch with all of the survivors, and people who appear in her film. That case is progressing. She is obviously not going back to FSU, I think she is close to graduating, I think she is in her senior year at another program.
Do you think the accused in these cases still don't really understand what sexual assault is? Is there still confusion around this issue?
KD: I think in most cases they do, but it's true that in some cases they don't. There has been so little consent education, I think some men just think this is just a way to have sex, which is sort of a little creepy but it makes them think it's not a crime, when in fact it is a crime. That says something about our whole society, that we are not educating men properly. That is why consent education has to start very early, even in elementary school with age appropriate consent education.
Consent is so important. Consent is not something we have really dealt with as a society. I think there is this idea around affirmative consent that somehow it will take the romance out of sexuality. I actually think it might do the opposite. It might allow people to have conversations that would make sex much more meaningful. For men as well as for women, while men don't want this, and have to put the moves on women, and they have this goal, in fact many men would rather have these conversations because it is as awkward as them as it is for the woman, so why not make it a rich and honest experience? Then the sex would be better.