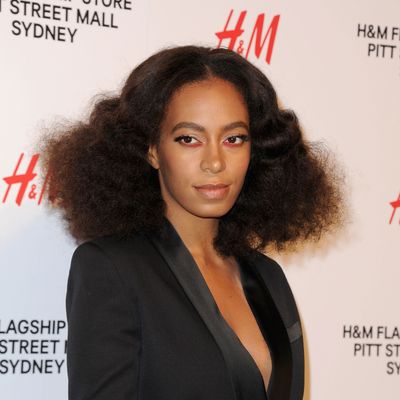 Solange.
Photo: Mark Sullivan/2015 Mark Sullivan
Because there's no such thing as a dumb beauty question, we're reviving our beauty Q&A series.
Question: I love the red eyeliner Solange Knowles wore recently while contemplating Thai food. How do I wear such a thing without looking like I need to barf?
Answer: To look as great as Solange in red eyeliner, you first need to channel her essence. Her makeup artist Dana Delaney says, "Solange doesn't care what anyone thinks. As she says, 'All that matters is I like it. I don't ever expect anyone to like what I do. I just do what I love.'"
Solange loves red eyeliner so much she doesn't even care that they don't make red eyeliner — to create the look above, her makeup artist Dana Delaney used a NARS blush called Exhibit A, which she turned into an eyeliner using Face Atelier Transforming Gel.
In this case, Delaney focused the red liner on the bottom lash line, careful not to draw it too close to the nose, as that can make eyes look smaller. Although the color was focused on the lower lash line, she added a few individual lashes on the top and smudged a dark-brown pencil into the lash line to give it some definition. "If you do it on a clean eye, it can make your eyes look really small," she says.
You're also going to want to make sure that your eyeballs are super-white so that your eyes and eyeliner aren't matchy-matchy. In Solange's case, they had just gotten off a 14-hour flight, so Delaney used Visine Advanced Relief to address any errant red veins. A touch of NARS Orgasm blush on the cheeks and some contouring using another shade of foundation kept the rest of her face neutral so that the red really popped.
When picking a shade of red, if you want a less zombie-inspired look, try to find a color with an orangey undertone. A burgundy red can make the skin look sallow, says Delaney. She personally doesn't think you have to consider your eye color too closely when picking the right red, but should look more at what flatters your skin tone. Since there are very, very few red eyeliners (Delaney mourns a discontinued M.A.C eyeliner pencil called Foxy Girl), she cautiously suggests looking at shades of lip liner, though she adds that lip-liner pigments are not specifically formulated to be applied around the eye. Try Make Up For Ever, which has a vibrant red eyeliner called Iridescent Red, Inglot Cosmetics AMC Eyeliner Gel in 79 or 80, M.A.C Chromographic Pencil in Basic Red, or a peachy-red shadow by NARS called Persia.
Now go forth and make the world see red.