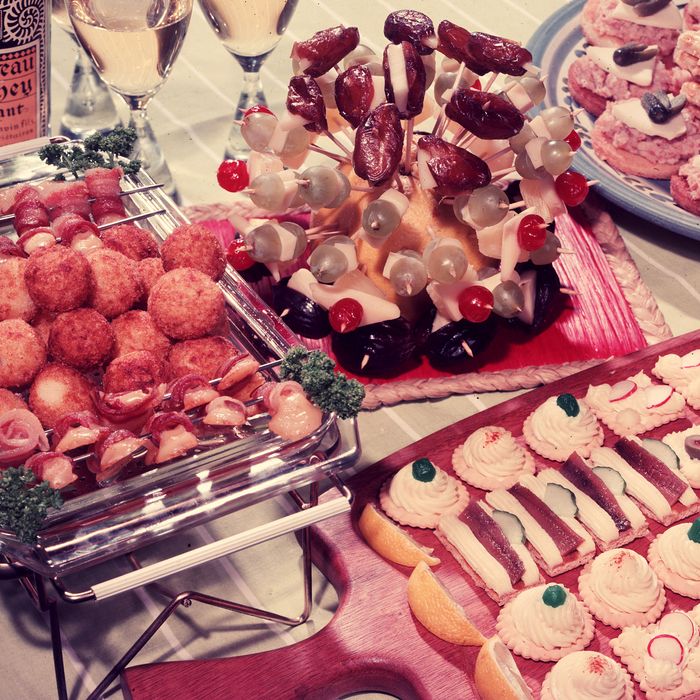 Photo: Chaloner Woods/Getty Images
A weeklong series on the art of entertaining, for women who are too busy for Pinterest.
Playboy is a magazine about current events. It doesn't have pictures—but don't despair, those of you who like pictures. It's always been full of articles by John Updike and other feminists just like him.
And Playboy wasn't always strictly a searing commentary on the political climate of today's America. For many years in the '60s and '70s, it actually dabbled in food writing. I know! What?
They had a food writer named Thomas Mario (real name Sidney Aptekar, which is also a good name. What if I named my children Thomas Mario and Sidney Aptekar? What if they were twins? Done. I'm doing it) and he published many books and articles under Playboy's banner, including (perhaps most famously) his Host & Bar Book, which told unsuspecting playboys how to throw a party. I found it online when I was trying to find instructions on throwing a party. The book has tons of pictures of modern apartments with views of some skyline, in which wizened, pretentious-looking playboys wear ascots and whisper into young people's ears while lolling around, eating pretzels. The playboys, though old, seem very intellectual.
I have written at length about how horrible my parties are. Why revisit such a painful subject? It is too grim. But I am always looking to improve my deficiencies, and recently I have noticed an embrace of entertaining gurus from the '60s and '70s in the news media. The Times is obsessed with Julia Child. She planned the paper's Thanksgiving THIS year, even though she is dead. Perhaps I would throw a party based entirely on the Thomas Mario precepts. Then people would think, Look, she's so cool, like a playboy. Finally, I know she's not an idiot.
The first thing I realized about the Host & Bar Book is that Thomas Mario is a great writer. I will give you the first line of the book for evidence. "That the bouquet of freshly decanted Barolo wine once reminded a drink connoisseur of rain-drenched violets is a kind of verbal effusion that the modern American male will no longer buy." See? This is the kind of sophisticated writing you would only see at a sophisticated publication with amazing articles and no pictures.
Another thing I like about the Host & Bar Book is that it has a lot of cocktail recipes that I enjoy. I have found that few people share my taste in cocktails. For example, one time I hosted a party during which I tried to make the cocktail that was served at Grace Kelly's wedding to Prince Rainier. It was one part brandy, one part grenadine, one part cream. It was incredible, but somehow everyone hated it? My friend and I had spent a lot of money on alcohol, but only 12 people came to the party. Whatever. It's not important. But this book has some amazing cocktail recipes. Two kinds of crème de menthe and gin? Coke combined with pineapple juice, coffee liquor, rum, and lemon? Delicious!
The Bar Book is split up into two sections: First, there is a lot of time explaining what alcohol is ("Whether your drinks are as potent as arrack or as gentle as fino sherry … their purpose is to create fun and amity") and presenting different recipes for cocktails. Then there is a section on different kinds of parties that a person can have, like a galley party ("The kind of victuals you stow aboard depends for the most part on the length of your cruise and the size of your galley").
I decided to have a cocktail supper party. Thomas Mario says a cocktail supper party is "based on the theory that it takes more than peanuts to make a party. As a meal it stands midway between the tidbittery of a mere drinking session and a full-fledged sit-down dinner." At these kinds of parties, in fact, you are expected to have "a single hot and a single cold hors d'oeuvre of unrivaled goodness" as well as a main dish that is also hot and cold, for symmetry. An example menu? "Cold glazed ham … and hot Swedish brown beans form a compatible partnership, along with a mushroom and asparagus salad with curried mayonnaise." This is just the kind of thing that an old yet extremely smart man who says great stuff into people's ears WOULD like.
On the Friday of my party, I picked out my menu and bought the ingredients. Thomas Mario talks a lot about Stilton cheese and pâté de foie gras (he really LOVES the fat on the top of the pâté) so I was obviously serving those, but they are not really hot and cold, per se. So I decided to comb the book for recipes. The things that looked the most appetizing (can you even believe) are hot Gruyère-and-anchovy canapes (a mixture of anchovies and Gruyère on toasted bread broiled at a high temperature) and melon-prosciutto cream dip (essentially melon and prosciutto that you dip into a concoction of sour cream, cream, cherry heering, lemon juice, and sugar). Finally, I tried to buy cold glazed ham or Swedish brown beans. No such luck! Instead I bought a roast chicken and found some mushrooms and asparagus to somehow pair with a curry mayonnaise.
Next, I went to the liquor store in my neighborhood to buy spirits. I felt it did not bode well when the clerk at the liquor store was LOLing as I got all of my alcohols and spent over a hundred dollars, even though I was only having two people over. And yet, for the playboy, money is no object.
A couple of hours before the party I started making my appetizers, Readers, and I got really grossed out, especially mashing the anchovies into Gruyère cheese. It just seemed so terrible. But then I thought about my unborn twins, Thomas Mario and Sidney Aptekar. What would they do right now? Aside from speak in their twin language? What I knew then was that they couldn't think their mother would let them down. So I just kept mashing.
Finally, my guests arrived. I greeted them with a drink called Alexander's Sister, which combined two kinds of crème de menthe, gin, and cream. I loved it! It tasted a bit like a peppermint patty. My two friends said it was "very refreshing" and seemed actually pleased to drink it. Then I served them the hors d'oeuvre. The Gruyère went uneaten, but the prosciutto was surprisingly successful! My friend had also made an appetizer from chopped clams that she got from a '60s cookbook, which was actually good.
One thing any playboy knows is that there is nothing better than a communal punch. I served them something called Playboy punch, which was apparently served in the Playboy club in London at some point. It was a combination of coke, pineapple juice, rum, and coffee liquor. It tasted like a tropical drink that had been spiked at the last moment with chemicals. I didn't finish mine but it really wasn't half bad, if you like a chemical taste. (Can you believe Playboy had restaurants? They probably only had Socratic debates there.) Then we had dinner. The roast chicken was fine but the mushroom-asparagus salad thing was sort of weird. Mayonnaise does not really go well with asparagus.
After dinner, I served a post-dinner drink. Thomas Mario is very into those. "As a libation it is frankly sweet and toothsome," he has said. This one has coffee liquor, cream, and rum in it and tasted like melted ice cream. I would love to drink it at the twins' 21st birthday. My guests even enjoyed it, too. Despite the bad food, they seemed to be having a decent time. No one left early or complained about the drinks or told me there was no view of the skyline outside my apartment window. I did not whisper in any ears, but only because my guests were not any younger than me.
Finally, a successful party! Thomas Mario once said, "Liquor allows people to unwind; hors d'oeuvre and liquor make them soar." I would amend it to "cream-based liquor drinks make parties soar," which I always knew would be the case.