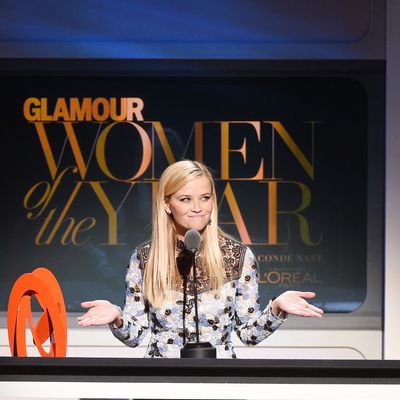 Photo: Larry Busacca/2015 Getty Images
A night dedicated to celebrating women simply wouldn't be complete without a few men worming their way into the spotlight. Jared Leto's locks and the Empire State Building were both bright pink for Glamour's 25th annual Women of the Year Awards on Monday night. Earlier, Mayor Bill de Blasio confusingly rechristened November 9th as Women of the Year Day. But Serena Williams showed up in something semi-sheer, host Amy Schumer quickly wrested control back from the attention-seeking menfolk, and Misty Copeland was the first of many honorees. Caitlyn Jenner, Reese Witherspoon, and Victoria Beckham were the three other primary winners. The USA women's soccer team, Planned Parenthood president Cecile Richards, and Elizabeth Holmes, the youngest self-made female billionaire in the world, were also honored.
During her acceptance speech, Jenner demonstrated that she was paying attention in "Philosophy 101," quoting existentialist French philosopher Simone de Beauvoir. "One is not born, but rather becomes, a woman," she quoted, calling them "words I live by." In a royal blue Moschino gown, Jenner spoke to a universal female experience ("Well let me first say, getting up those stairs in this dress is more difficult than hurdling") and also the particular roadblocks she's faced as a trans woman.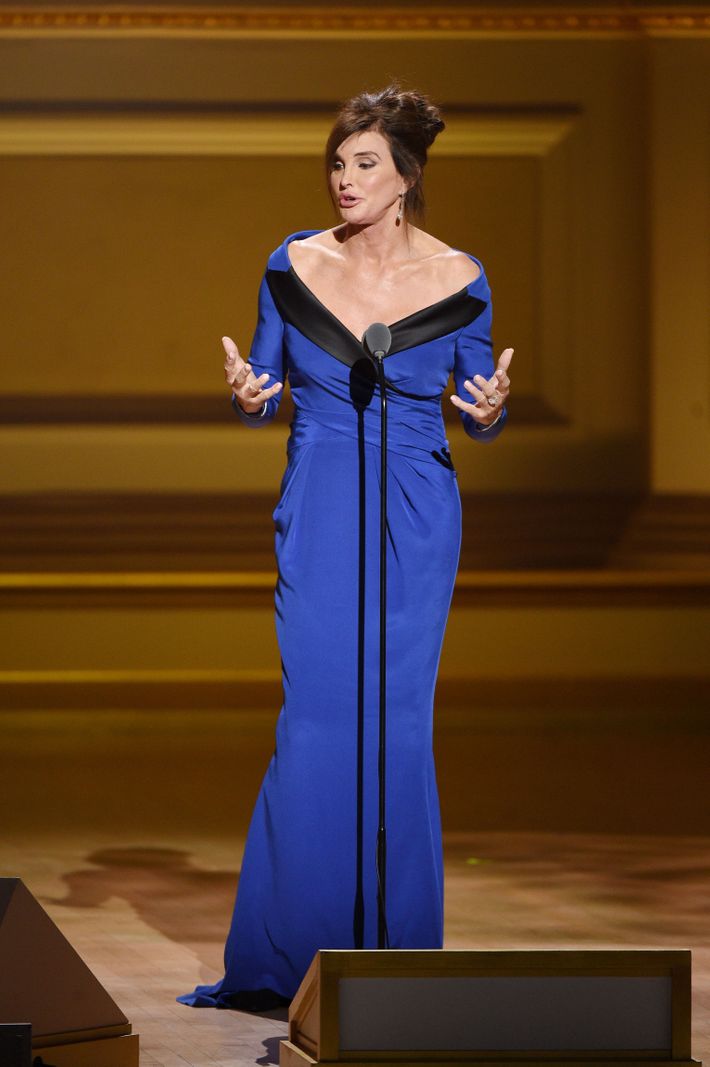 "I haven't been on the airlines in over a year because I didn't have authentic I.D.," she said. "And finally last week, I got my driver's license. Picture and gender marker 'F.' So it's always the little things in life that really you notice. And I'm sitting on the plane, and for the first time reading Glamour magazine and not having to fold the cover over so nobody could see what actually I was reading. And I had that thing open beautifully and just reading through Glamour magazine was absolutely great."
Jenner thanked the trans community for paving the way and spoke to her tumultuous decision to come out. "Maybe this is why God put me on this Earth — to tell my story, to be authentic to myself about who I am," she said she realized after many conversations with God. She also thanked her family for their support and commitment to standing by her side. She must have meant figuratively; Kylie was the only one of her busy offspring to show up.
Reese Witherspoon cracked jokes about Hollywood's gendered casting dynamics, bragged about getting accepted to Stanford, and asked audience members to think of "a really dirty word." Unlike everyone else in the room, Witherspoon was thinking about the word "ambition." "See, I just kind of started wondering lately why female ambition is a trait that people are so afraid of," she said. This query led her on a quest to find out why more movies weren't being made with strong female leads. Unsatisfied with unapologetic film execs that shrugged off her concerns, Witherspoon got busy.
"Like Elle Woods, I do not like to be underestimated," she said, of her decision to start her own production company with a focus on female-centric films. In the first year, she purchased two books written by and focusing on women; Gone Girl and Wild went on to gross over half a billion dollars.
In another desperate (but adorable) male plea for attention, Victoria Beckham's son Brooklyn got onstage under the guise of presenting his mother with her Woman of the Year award. Beckham thanked her husband, but quickly turned things around with a Spice Girls–era peace sign.