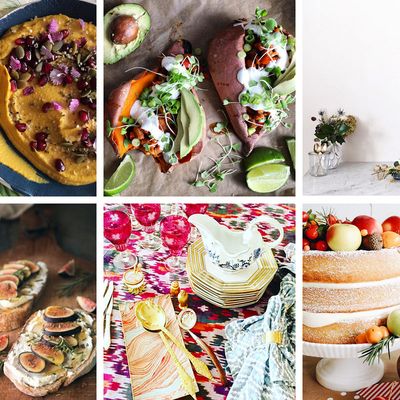 Brilliant ideas from the best.
Anne Sage, @citysage
Blogger and author Anne Sage is a master of low-key but startlingly beautiful tablescapes — lots of artfully wrinkled linens here. Featured meals are approximately a 1:1 desserts-to-salads ratio.
Best idea to pass off as your own: Using a cake plate as part of your cheese-plate arsenal (the lemon leaves are a nice touch, too).
Miranda Hammer, @thecrunchyradish
Miranda Hammer is a registered dietitian, and her recipes prize veggies and good grains like Paula Deen does butter. Find inspiration here for hosting those friends who always order the salad but eyeball everything else.
Best idea to pass off as your own: Her stuffed sweet potatoes have the soul of loaded potato skins with the nutritional content of something that won't kill you.
Eddie Ross, @eddieross
Magazine editor and author Eddie Ross teaches styling seminars across the country. If you dream about being the kind of person who can casually mix ikat with chintz, his tablescape-heavy feed will nourish your soul.  
Best idea to pass off as your own: Candy-colored goblets, all day, every day.
Teri Lyn Fisher and Jenny Park, @spoonforkbacon 
Their first book is called The Perfect Egg so you'll expect the feeds of bloggers Teri Lyn Fisher and Jenny Park to be heavy with poached moments. They're there all right, but the real spotlight is on the wildly creative pairings in the recipes — always weird for the sake of being delicious, not just being strange.
Best idea to pass off as your own: Roasted pumpkin hummus. Sprinkled with pomegranate seeds, the mic drop of the food-styling world.
Athena Calderone, @eyeswoon
Come to the dark side — the sumptuous, Dutch-painting-inspired dark side, on blogger and interior designer Athena Calderone's feed. Her styling is lush and elegant but always has a hint of an edge, as evidenced especially well by …
Best idea to pass off as your own: Black praline macarons. Because pastels have no place at a holiday meal.
Pippa Lord, @sousstyle
Food and styling ideas punctuated by intense, unexpected color and a clear focus on fun. Blogger Pippa Lord has a knack for uncovering the most fascinating, inspiring food photos and presenting them with never-cheesy captions.
Best idea to pass off as your own: A fig-and-ricotta toast that looks like a million dollars served on a cutting board. Make a batch and invite over every frenemy you've ever wanted to impress.
Kristen Caissie, @mooncanyon
Kristen Caissie's big-ticket floral arrangements can hold their own against the giants of Insta-florists, but the difference is that her feed is also peppered with actually doable ideas.
Best idea to pass off as your own: De-stemming your flowers and arranging them around the plates.
Veronica Valencia, @thefloralhunters
There's a seemingly endless number of amazing florists across the country, and this under-the-radar account, run by L.A. designer Veronica Valencia, is essentially their Yellow Pages. Welcome to your new favorite floral rabbit hole.
Best idea to pass off as your own: This account is 99 percent pure inspiration, though this chocolate bark with edible flowers recipe does come with a DIY.
Jenn Gietzen and Kathryn McCrary, @projectsip 
Instagram had a dearth of well-lit, actually pretty cocktail photos until Jenn Gietzen and Kathryn McCrary's newish feed showed up. Their simple drink recipes are made even better with excellent photos and whimsical hand-lettering. Bonus: The drink names are puns.
Best idea to pass off as your own: The "Stop! Apple Thyme" cocktail is really a born-and-bred fall drink, but no holiday-party guest will let that stop them from drinking three.
Brandy Brown, @maraboudesign
Brandy Brown, the Seattle-based stylist and artist, puts together tables, floral arrangements, and party décor crackling with joy — and manages to avoid anything looking overproduced. She's also a true champion of the bold tablecloth, and after following her for a week, you will be, too.
Best idea to pass off as your own: A simple layer cake "frosted" with fruit, fresh herbs, and enough powdered sugar that no one misses the actual buttercream on top.
Justina Blakeney, @thejungalow
Before Justina Blakeney wrote her New York Times best-selling The New Bohemians, the blogger and designer gathered her tribe on this Instagram account devoted to rooms, tables, and vignettes that embody "jungalow" style. It's relaxed, inspired, personal, and welcoming — basically all the feelings you want guests to get out of your party. Take notes.
Best idea to pass off as your own: A leaf-heavy runner and succulents as place cards.