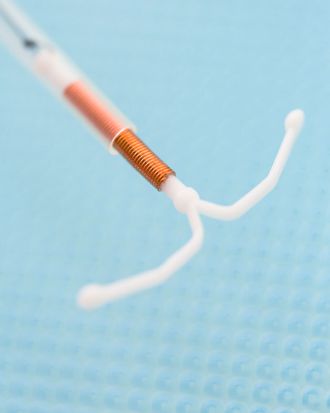 An IUD's hostess gift? No babies for now.
Photo: GARO/PHANIE/Corbis
New data from the Centers for Disease Control and Prevention shows that the use of intrauterine devices and implants has almost doubled in recent years as more women open their arms (and uteri) to these highly effective, long-acting reversible contraceptives — also known as LARCs.
Between 2011 and 2013, the CDC asked a nationally representative sample of more than 5,600 women of childbearing age about their birth-control habits. Of the women currently using birth control, 11.6 percent said they used LARCs — specifically, 10.3 percent had an IUD and another 1.3 percent had an implant. In the years between 2006 and 2010, just 6 percent of women surveyed used an IUD or implant; that number was 2.4 percent in 2002. Some women may prefer the convenience of a "set-it-and-forget-it" birth-control method that works for years, while enhanced insurance coverage of contraceptives under the Affordable Care Act has likely helped make these pricey devices more accessible.
The pill remains the most commonly used form of birth control at 26 percent, with female sterilization a close second at 25 percent, and condoms in third at 15.3 percent. But these three methods have all declined in popularity since 2002, while IUDs and implants have surged. Now, where can we find a really tiny welcome mat?