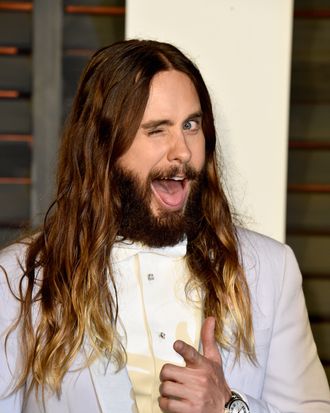 21st-century pilgrim.
Photo: Pascal Le Segretain/Getty Images
A hot neighbor does not necessarily make a good neighbor. Case in point: Jared Leto. The actor moved to Laurel Canyon this fall and instantly made himself known by throwing a Halloween rager. According to TMZ, his guests "wreaked havoc" on the neighborhood and infuriated longtime residents.
So what's a peace-loving celebrity to do? Head to Whole Foods, it seems. Leto picked up a batch of pumpkin pies and delivered them around the neighborhood. Lest his good deed go unnoticed, he scrawled "Happy Thanksgiving! From: Your Neighbor, Jared Leto" on the box. Your move now, cranky neighbors.