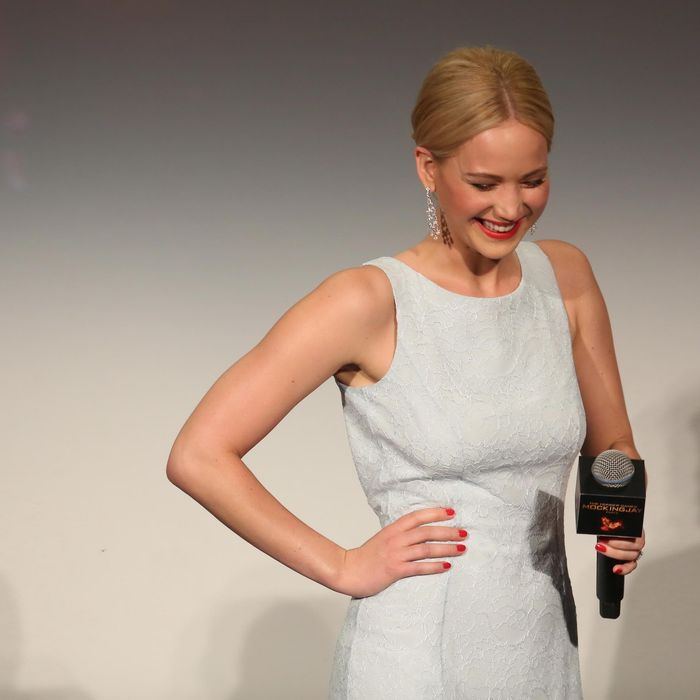 J-Law
Photo: ChinaFotoPress/ChinaFotoPress via Getty Images
In Jennifer Lawrence's November Vogue cover story, the beautiful young actress lamented the fact that even she — the one of the great wit and clear skin — can't find a good man to date her who isn't going to be mean or try to "establish dominance." Well, perhaps that's because J.Law hasn't been scouring the at-mentions of her fan-created Twitter pages. If she had, she'd know there are legions of excitable and eligible bachelors just ready to sweep her off her feet.
After Lawrence's Vogue story appeared online yesterday, fan Twitter account @JLDaily was swarmed with eager proposals from young men who were not only convinced that the Twitter page belonged to the young actress (it doesn't), but that she'd definitely be into dinner and a movie with horny strangers from around the world. They just wanna rescue her from all those other nightmare men out there.
Some dudes in JLDaily's at-mentions asked Jennifer to "Come hang out in TX with a good ol southern gentleman sometime." Others wondered if she was "serious about finding someone unfamous" or if she was looking for a "stable older bf for a while who is not worried about the hollywood stuff." None really stopped to investigate if the account belonged to Lawrence. Jennifer, as it turns out, doesn't even have a Twitter account.
Back to square one, thirsty gents.