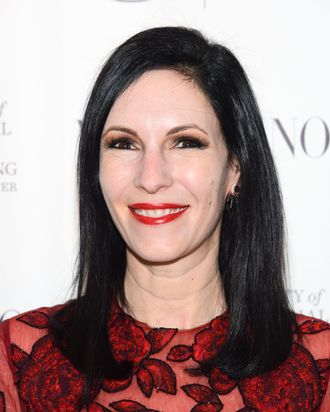 Jill Kargman.
Photo: Grant Lamos IV/Getty Images
With three kids and a hit TV show, Odd Mom Out star Jill Kargman effortlessly embodies the cool-mom ideal, but on Tuesday at an all-female panel for the New York Comedy Festival, she retained her right to make birth-control jokes at dinner parties:
I was talking about my IUD and how my bedsheet is the flag of Japan every month. And I'm dying and I hate it. And this woman [said she] had her tubes tied after having her fifth baby, and I said I would have taken the 'We heart our customers' thing off the dry-cleaning hanger and just, like, twist. And this guy goes, "TMI, TMI, that's disgusting." And I'm like, we hear about your dicks all day long. Why do I have 20 synonyms [for male masturbation]? Like, spanking the monkey, choking the chicken, punishing the bitch in the turtleneck. And God forbid I talk about my [uterus] for one minute. It's not about being irreverent. It's leveling the playing field.
Kargman's noble stance against dick jokes is just one of the reasons she's central to the current golden age of female-driven comedy. After the panel, she described sharing the production company that produces Broad City and Inside Amy Schumer:
Abbi [Jacobson] and Ilana [Glazer] were in our office last week and we all had a dinner together that [Jax Media president] Tony Hernandez hosted. I feel like they're kind of the kindergarten class across the hall that you sort of know but not really. But there's this support network.
Jill Kargman: Queen of Dinner-Party Goals.