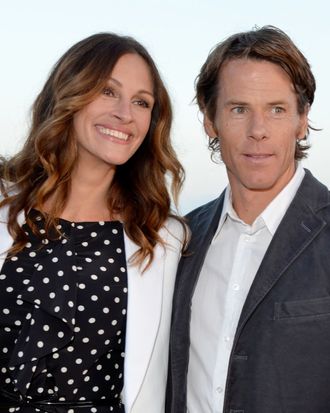 Photo: Lester Cohen/2012 Lester Cohen
The usually private Julia Roberts opened up yesterday about how she keeps her marriage hot. Roberts legally wed cinematographer Danny Moder 13 years ago; like many marrieds, the couple has spawned children. While celebrity status may guarantee a great date-night reservation, it also renders relationships prone to excessive drama and rapid dissolution.
Visiting EXTRA to promote her latest film, Roberts offered insight into how to avoid the pitfalls of being married while famous. Host Mario Lopez congratulated Roberts on the double-digit anniversary before asking what advice she'd give other famous couples. "I don't know," she said, before revealing that she did, in fact, know all along: "probably kissing." It's a tip that's relevant to normal people too. "I don't think it's exclusive to entertainment couples, I wouldn't even think of us as an entertainment couple," she said.
Though Hugh Grant revealed that he was "aware of a faint echo when kissing her" in Notting Hill, Roberts hasn't let her large mouth get in the way of locking lips. But, she does have a well-documented love-hate relationship to kissing. In 2011, she said she felt "swoony" and "got all giggly" when kissing Tom Hanks while filming the movie Larry Crowne. (Hanks said, "It is one whammy kiss. She was the 'wham,' and I was the 'me.'") In 2014, James Franco revealed that Roberts "didn't even want to do the kissing scenes." Turning things around, she gave Richard Gere a kiss on the lips to celebrate Pretty Woman's 25th anniversary this spring.
If her tip seems boring because it is, Roberts's answer is also indicative of how things roll in the Roberts-Moder household. Roberts revealed that she recently celebrated her 48th birthday by going out to breakfast with her husband. Next, she said, "[M]y girlfriends came over and we played mahjong all day."