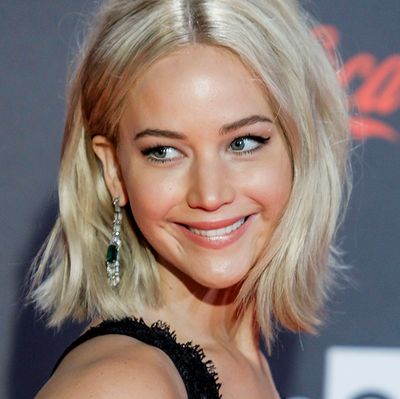 It's us!
Photo: Getty Images; Corbis
Julia Roberts has a new movie out, which is great because I missed seeing that gal's face in the press. And now that she has returned to the public eye, what else should we be asking her about besides dresses and family life and awards season? Oh yeah, the gender pay gap — a rightfully hot topic at the moment. On Good Morning America this week, Roberts spoke with Michael Strahan about unwitting pay-inequity pioneer Jennifer Lawrence.
"I applaud her," Roberts told Strahan. "She's a young, fabulous, talented whippersnapper and I love that she's stirring things up."
Mooommmmmm. A whippersnapper?
Roberts went on to clarify, "I mean, she just —she's so energetic and seems to speak her mind, and I think it's great. I think it's great to kind of shake things up. I think it's great to go, 'Excuse me. Over here. I know something now and I'm frustrated by it and why is this?'"
Hey, Ms. Roberts — you're kind of a whippersnapper, too, little lady. And I love it.