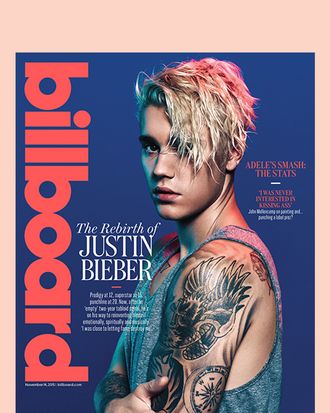 Justin Bieber, the forlorn star of his own redemption tour, is the cover subject of the latest issue of Billboard magazine, where everything from his lifelong relationship to Christianity to his former flame Selena Gomez ("I'm proud of the woman she is today") is discussed in voyeuristic detail. As is to be expected, the story on Bieber is full of memorable moments, but the underlying narrative — that of the pop star's return to faith after years of getting into teenage skirmishes — reveals that his road back began with the simple tale of Noah's ark.
According to Billboard, Bieber's new, more adult music, pot-free lifestyle, and renewed Christianity all stem from a moment when the star was at his lowest and got in touch with his childhood pastor to ask him some burning questions:
"I'd come and listen to him and try to hear him out. I had all these questions and things were not adding up. 'Well, why is this, then? How did all those animals fit on Noah's Ark, then?' " Today he better understands faith. "That's what it's all about — not questioning it."
Talking things out with Smith has reportedly helped Bieber immensely in becoming the (sort of) man he is today. "He'll send [Bible verses] to me, along with encouraging thoughts or an encouraging emoticon," Smith says. Bieber's first album in three years is set to release in under two weeks, and while his promotional tour for Purpose has provided conclusions to some of life's most important queries (such as, "Is the boy wonder packing?), Bieber's question about the biblical tale has been left unanswered. How did all those animals fit on Noah's ark? No, for real?