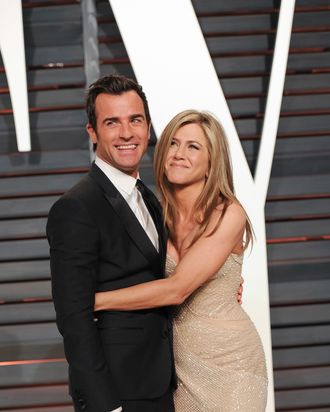 A beautiful couple.
Photo: Billy Farrell/BFAnyc.com
It's Friday. You're with your boyfriend at a fancy restaurant — say La Taverna or Le Chipotle — and he's staring into your eyes. You can tell he wants to say something, but he's holding back, looking a tad demure, reserved. "What is it?" you ask. "Go on, you can say it."
"Uh …" he stutters. "You're beautiful." Oh, snap! That came out of left field. Not what you were expecting at all.
Your boyfriend probably got the courage to pay you such a compliment from Justin Theroux, noted tattoo man and husband of Jennifer Aniston. At the launch of Call of Duty: Black Ops III last week, Theroux told Entertainment Tonight that the compliment he most loves to pay his new wife is, simply, that she's beautiful.
"Not to be corny, but it's true," he said. "So I constantly say that." Wild.