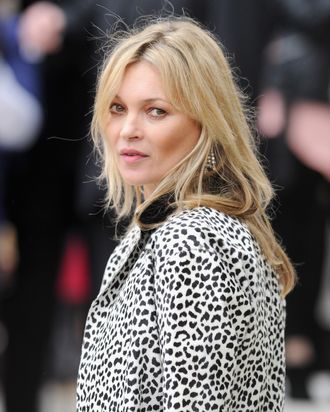 Photo: Stuart C. Wilson/Getty Images
It's no surprise that one of the world's most photographed women doesn't bother with selfies. Kate Moss is trailed almost constantly by paparazzi and Kardashian-style micro-documentation would never fit with her brand of effortless, indifferent cool.
But as it turns out, she couldn't if she wanted to. "I don't know how to take a good selfie," Moss said during a joint interview with selfie heavyweight Cara Delevingne that'll run in HELLO! Fashion's December issue.
Moss doesn't have a relationship with social media "at all," but she knows about SnapChat thanks to her daughter—"there are all these new filters with the tongue and everything"—and does make one exception to her general social media ban. The Luddite model keeps tabs on Instagram via her "secret" account. "I have to," she said, "otherwise I wouldn't know what anyone was talking about."
She could be following you, but she won't for long if you keep posting all those pancake pictures. "I don't care about people who post what they're eating or the weather," Moss said.