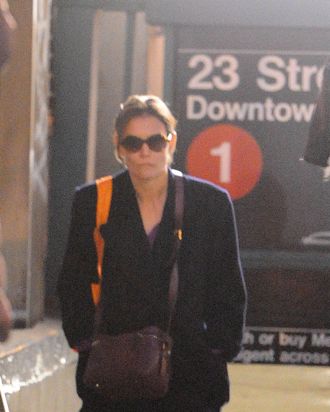 Riding the underground rails.
Photo: Josiah Kamau/Splash News
New York City has long been home to celebrities of every caliber: We let Taylor Swift buy a loft in Tribeca after tricking her into thinking it was a cool neighborhood, we eagerly anticipate running into Hilary Duff on a Tinder date at the Woods, we even tolerate Alec Baldwin's curmudgeonly CitiBike riding as long as he stays out of our fucking way. But while everyone from Lady Gaga to Lenny Kravitz to Tom Hanks gives New York its glamorous sheen and personality, no celeb can lay a stronger claim to being a real New Yorker more than actress and former Joey Potter Katie Holmes.
You may recall our previous encounter with Manhattan's princess on the platform at Penn Station, where she reminded us that there was "nothing better" than "heels and a train." While we have to disagree, Holmes had more to say. In a recent cover story for Ocean Drive magazine, she explained:
What is wonderful about New York is there's so many places that you can live here your whole life and never see, and there's just so many hidden treasures. If you're having a bad day, you just take a walk, and it's not only that you see people who are having a worse day than you, it's just that you're in life. You suddenly can't be stuck in whatever problem you're in because you have to hail a cab or you have to get a subway ticket. There's more than just you. And I think the harsh winters give you a little bit of character.
Lest we forget, Katie Holmes used to have her very own private entrance to Whole Foods. Thank you. That'll be one subway ticket, please.