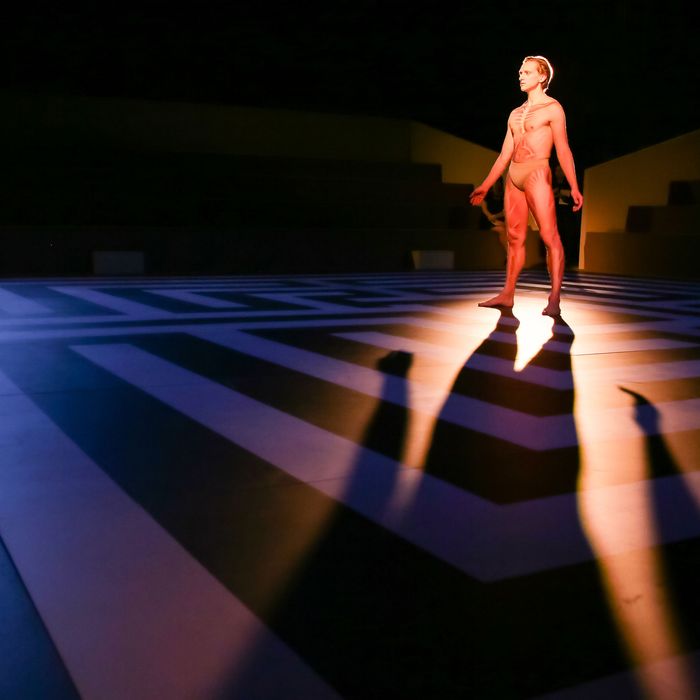 Performa.
Photo: Max Lakner.com/BFA
Sunday night, the Performa performance-art biennial kicked off with a dinner at The Four Seasons, followed by Francesco Vezzoli's Renaissance-themed dance under the Byzantine revival dome of St. Bartholomew's Church nearby. Because the night's theme was Renaissance, all the usual modern-day Medicis and art-fashion aristocrats were on the bleachers: Carine Roitfeld, Cindy Sherman, Miuccia Prada, Wendi Murdoch, and Klaus Biesenbach, among others (like, oh, Katy Perry).
Anyone familiar with Vezzoli for his 2006 trailer for an imaginary remake of Gore Vidal's Caligula, which starred Helen Mirren, Milla Jovovich, and Courtney Love, might have expected something sexy and sacrilegious. But, despite opening with the stately David Hallberg — principal dancer for the American Ballet Theatre and the Bolshoi Ballet — close to nude, it was a staid and mannered affair. Vezzoli, who oversaw the proceedings from the church's pulpit, says that he was striving for a throwback to courtliness in our post-courtship hookup era. Renaissance dance is "basically the anti-Grindr," he said.
A re-creation of a 15th-century royal-court soirée, Fortuna Desperata, the performance had all the step-touch, step-touch thrill of a midwestern square dance (albeit with coy smiles on the lips of the set of lithe dancers).
"This is pre-dance, pre-spectacle," said Performa's director, RoseLee Goldberg. There were no leaps, no lifts, only simple, circular movements that anyone in attendance could have replicated. Its mating-ritual qualities went no further than curtsies, bows, and tight-lipped smiles.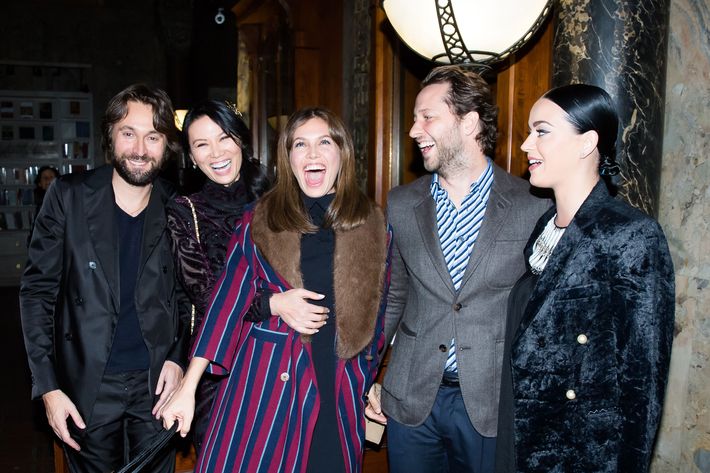 "I don't want to sound cheesy, but it's about love," said Vezzoli after the opening, looking subdued himself in all black and a tiny diamond-cross necklace. "It's like, 'I'm falling in love with the way you're caressing my hand.'"

He liked working with the ballet dancers, too, whose "bodies are harmonious and every muscle has a reason for being," unlike those of a typical gym rat. On second thought, Vezzoli decided that maybe Renaissance dance could become a fitness craze all its own. These dances "were basically the Pilates of the 15th century. So if we launch a trend and I become rich, I'll put the copyright on it."

Hallberg's costume wasn't particularly restrained, however: a bejeweled number by Prada's design director, Fabio Zambernardi. Rather than a faithful period ensemble, Zambernardi tarted up a boxy-skirted Renaissance silhouette with go-go-inspired slippers and an oversize bow in the back. "It was a bit outrageous to do that, especially on such an incredible and famous dancer," Zambernardi said. "It was totally 'wrong' to have such a bow on the back of the dress and I thought, He's not gonna like it. But, funny enough, the moment he put it on he said he felt very masculine."

Several audience members found the dance to be none too chaste at all. "I thought it was very sexy," said the artist Ryan Gander. "It's like leaving your keys in a bowl at a party. Now it's her, now it's him — everyone's trading partners."

"You could see David's face in close-up and see the sweat coming down. That was very intense and raw," said the artist Rachel Feinstein. "It's like, here's the beauty of the performance, and here's the reality of the flesh."