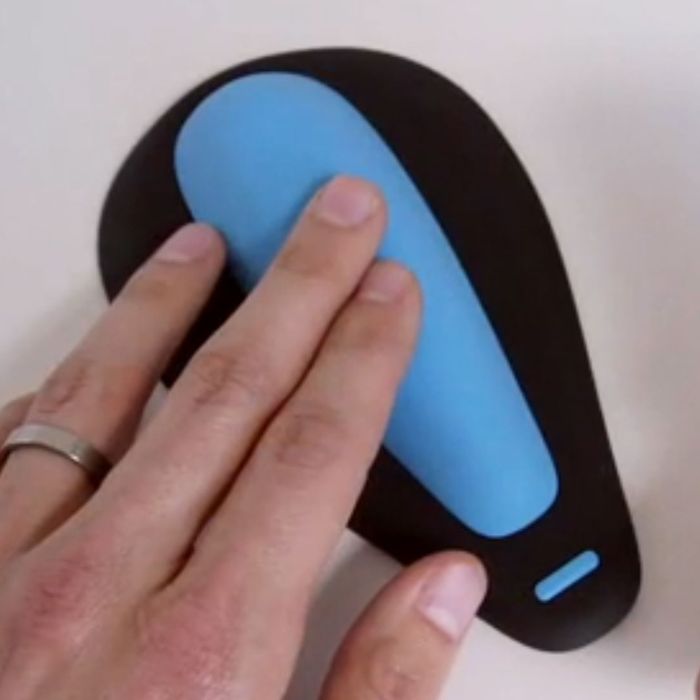 Male Kegels, the Game.
Photo: Kickstarter
Women do Kegels, for all kinds of good reasons (and a few icky ones, like experiencing pelvic-floor dysfunction after birthing small humans). There are several Kegel trainers on the market for those with cervixes, which generally involve the user inserting a bluetooth-enabled device into her person, opening the companion app, and completing a guided vaginal workout.) Now, one company wants to introduce a similar trainer for men.
Yes, men can also apparently benefit from the strengthening power of Kegels, and thus the makers of the kGoal for women, Minna Life, have launched a Kickstarter for a men's version called the kGoal Boost. The manufacturers say Kegels can help men improve bladder control, blood flow, and erection strength, as well as combat premature ejaculation. But while the women's version of the Kegel machine is fairly discreet (and you would only use at home anyway, one assumes), the device for men locates its squeeze-detecting sensors in an air-filled pad that one casually sits on while fully clothed, perhaps while on the couch, in your car, or at your desk chair. The perfect replacement for an outlawed hoverboard!
"You can be improving your sexual health and fitness while you're watching the game on TV (or at work, or on your commute, or eating breakfast at home, or in a hundred other situations)," the promo copy says. Of course, men (and women) can do Kegels without a device, but Minna Life thinks that people are more motivated by an app that tells them if they're doing it right and offers both straightforward workouts and irreverent games for their undercarriage. But in public? A beer on me for the first New Yorker to plop one of these babies on a subway seat and get after it.
If Minna Life reaches their funding goal, the tiny bicycle seat will be available in July 2016 for $109 (though pledging $75 now will also get you a kGoal Boost).