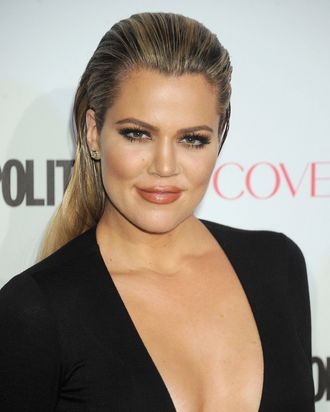 Photo: Gregg DeGuire/WireImage
If you've watched Keeping Up With the Kardashians over the past million seasons, you've noticed Khloé's body transformation. In between filming the show and managing Dash, she's dedicated herself to getting healthy and finally feeling confident in her body. And now, she's sharing her advice with fans in a new book, Strong Looks Better Naked. While promoting the self-help and fitness guide, she spoke to the Cut about the importance of giving yourself pep talks, embracing almond milk, and why it took two years for her to get her dream butt.
How I start my day: I typically wake up at 5:30. I hate it. It takes me like an hour to get out of my house because I normally hit snooze a few times. Then I take a banana and Justin's Almond Butter packs with me in the car on the way to the gym. You're not hungry at 6:30 in the morning. It's not normal to eat at that time. When I'm done working out, I try to have a protein shake. There's a cookies-and-cream one by Select that makes me so happy. I drink that on my car ride home. And then around nine or ten we do hair and makeup. I normally eat something like oatmeal or a hard-boiled egg during glam.
How I like to sweat: Every day it's different. But with my trainer Gunnar [Peterson], I normally go in like 30 minutes before my hour workout and I'll do some stretching and a little extra cardio. Then we do circuit training and we basically do, say, five different workouts, and we do that three times, within an hour. There are definitely times during the workout that I'm like, How am I going to do another round of this? But then you're like, Okay, it's only 15 more minutes of me doing that in my life, so bust through the 15 more minutes. I'm never going to regret a workout. No one says, "I was really pissed I worked out today." You're pissed if you missed your workout, but you're never pissed if you actually go and accomplish it.
On building my best body: I always wanted a great, round butt. Gunnar and I, for like two and a half years, we really worked on my butt and strengthening my legs. So I feel really accomplished about that, but then I'm like, I want muscular calves. So now we're incorporating a ton of calf workouts in, which I feel good about whenever I do them. My least-favorite body part is my arms. We focus on those more. I'm still not proud of them, but when I see before and after pictures, I realize how far I've come.
What wellness means to me: Wellness is all about moderation, but it's also about making sure you're adapting things for your life and not for the whole health fad, like I tried to do forever. I've tried every diet, I've tried every fad cleanse. I think there are times, like, say you have a birthday party or something you want to look great for, I think cleanses are good for your system. But I don't believe in living my life constantly on a diet. I used to, and I just don't think that works or is healthy.
My wellness struggle is: When I was in the Hamptons filming with Kourtney, she was pregnant and she would eat like crap every day because she should. She's pregnant doing whatever, and I would just sit there and eat with her, horrible food. But it's really hard when people aren't on a healthy lifestyle with you. Once I got home, I realized I'd gained a lot of weight. Now, Kim is pregnant and Kim has a sweet tooth. So she will eat so much crap and whatever and it works for her, but I have to learn, I don't have her body type.
What surprised me about healthy eating: The dairy thing doesn't bother me. I was so against almond milk. I was so against it, I just thought it was another fad. I'm like, "I'm not trying this fuckin' almond milk. There's no way." And then I tried it, and I was like, "I will never have dairy milk again, even when I cook." I was addicted to cheese, but now I've limited it in my diet. When I'm having a salad and I take out the cheese, I don't notice it.
My wellness advice is: For me, someone who has struggled with that inconsistency my whole life, I was about "Let me have baby steps. Let me start going to the gym and just get into the routine." And I ended up loving it. I loved the mental release it gave me. And then slowly, I was like, "Okay, now I've got this workout thing down. Let me go to a nutritionist and see what I'm doing." We're so hard on ourselves if we don't lose 20 pounds in like a month and that's so unrealistic, so I think just reward yourself for losing like five pounds or one pound. It's such a huge feat to lose two pounds. It really is. It takes a lot of work to do that. You have to have pep talks with yourself sometimes.
How I end my day: I haven't been on my same routine lately because I've been busy with other things. It was my ritual to drink like half a liter of water before going to bed, it makes you pee like crazy but it's so good for your system. We edit our TV shows so normally I'm editing before bed, but sometimes I can't handle any more Kardashians. I was filming all day; I can't watch my sisters anymore. I love — I'm such an old lady — between ten and 11 Seinfeld is on. I like mindless, harmless TV. It makes you happy and it's safe to watch. I'm like a Friends type of girl. I like things that are just easy. I do love the Housewives. But if the housewives are fighting too much, I want something that's happy. So I'll change it to something else.
This interview has been edited and condensed.