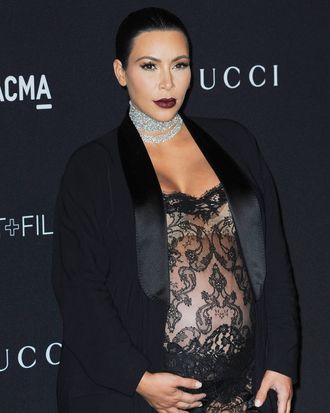 Not exactly the face of giving up.
Photo: Splash News/Corbis
Kim Kardashian is very pregnant, and very over it. While the Kim of 2013 was the world's least comfortable pregnant person (by choice), the Kim of 2015 just wants to wear sandals and pop baby Ye out ASAP so that "the worst experience of her life" can be over. Unfortunately, some of her friends aren't respecting this leg of her journey.
"It's getting hard," Kim said on the newest episode of Vogue's podcast. "A friend of mine emailed me and said, 'Have you given up?' and I said, 'Why, what do you mean?' and he said, 'You're wearing flip-flops. I saw a photo of you in flip-flops,' and I said, 'Yes, I've given up at this point.'"
That gender pronoun fake-out can't fool us: Kris Jenner, please stop cyberbullying your daughter and let her wear her flip-flops in peace.