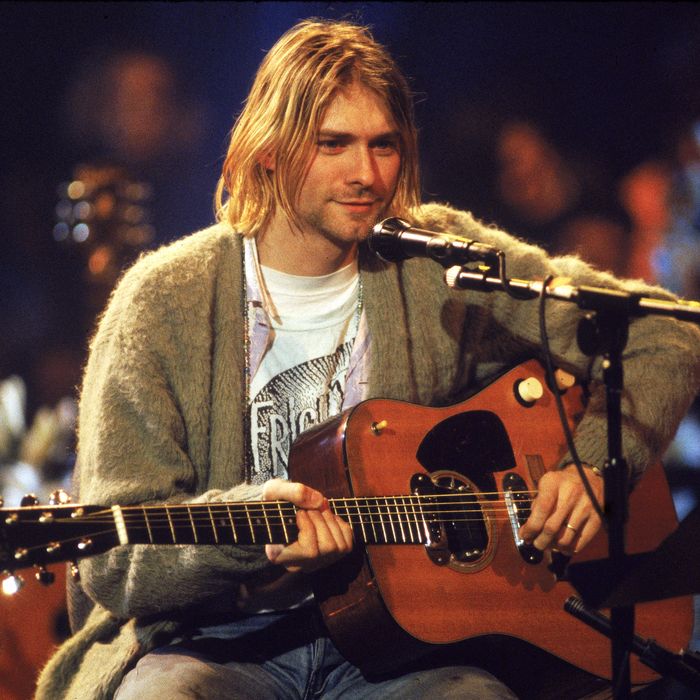 Looks good on him.
Photo: Frank Micelotta Archive/Getty Images
Kurt Cobain is dead, may he rest in peace. Would it surprise you that some people still want to make money from his brief time on Earth?
A not-insignificant number of Cobain's personal effects are coming to auction, which means we must ask: Would you be willing to spend $60,000 on a cardigan that Cobain wore during Nirvana's very memorable MTV Unplugged set? Surely, there are better things to spend money on than the picked-through remnants of Cobain's estate? Feel like sending your first kid to a year and a half of college, or no?
The sweater is listed on Julien's Live auction house and described thusly: "The Manhattan brand sweater is a blend of acrylic, mohair and Lycra with five-button closure (one button absent), with two exterior pockets, a burn hole and discoloration near left pocket and discoloration on right pocket, size medium."
This is like found-word poetry written from the essence of Kurt Cobain himself. But is it worth $60,000 to own the personal effects of a beloved deceased man? A button may be absent — but Cobain did perform a great, iconic set with his band while wearing it, so maybe it's a trade-off. But maybe we should just let the man rest in peace.
The bidding starts at $25,000, so apologies if your bank account is not up to the challenge.