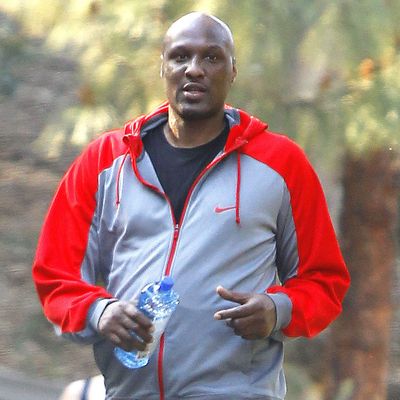 Photo: Dmac/FameFlynet Pictures/© 2015 FameFlynet, Inc - Beverly Hills, CA, U.S.A.
Though Lamar Odom is making progress in his recovery after overdosing on drugs in a Nevada brothel last month, his life will "never be the same," according to a source who spoke with People.
Because his brain was deprived of oxygen during the stroke he suffered, Odom is having difficulty speaking and can't walk on his own.
"Lamar won't likely leave the hospital for a long time," the source told People. "And when he does, he will need full time care. He can't take care of himself."
"Lamar has serious longterm and lasting issues," the source added. "His life will never be the same as it once was."  
Still, Khloe Kardashian said on Ellen last week that he's made major strides, and that he's still able to laugh and smile at appropriate times.