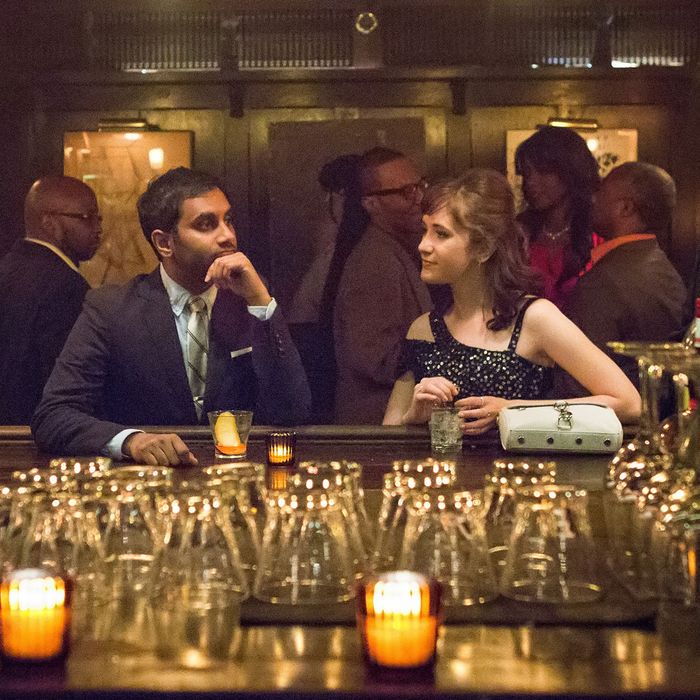 A scene from Master of None.
Photo: K.C. Bailey/Netflix
Co-writing a show in which you'll also star means the chance to give yourself a dream role — you could be a superhero, a mogul, a spy! For Master of None, the Netflix show he wrote with Alan Yang, Aziz Ansari went with a more quotidian fantasy: He plays the most fuckable version of himself.
I don't say that dismissively. If I could write a loosely autobiographical version of my life, I doubt I could resist doing the same. And while he could have, Ansari didn't Don Draper himself, nor did he go the Louis C.K. route and indulge in relentless self-deprecation.
His character, Dev, is basically a younger, less successful version himself — sort of like an Aziz one or two upgrades ago. A 30-year-old actor, Dev has observable talent but a frustratingly stalled career that consists mostly of commercials. (N.B.: not so stalled he can't pay rent on a gorgeous Brooklyn apartment.) The broader strokes of love confuse him (Do I want kids? Should I settle? Is this text funny enough to get her to respond?), but he doesn't want for ass. Over the course of ten episodes, he regularly dates and sleeps with attractive and interesting women — and none of it is pity sex or sleazy sex (looking at you, Louie). Indeed, after five hours with him, the audience understands why Dev gets laid. He's attractive, funny, and successful enough to be a reliable guide through all the complexities of modern love and sex, and he doesn't even have a man-bun.
Ansari, of course, has spent some time analyzing this very topic. His book Modern Romance sought to tell us how to get laid; but, sadly, the "put down the phone and get off Tinder" advice was pretty non-revelatory. Now, though, with Master of None and Dev, Ansari has done us a favor by creating what is essentially a guide to being a dateable and potentially fuckable modern man.
Here, for our sake and yours, we've flagged the episodes where you can learn the most:
How to Be Hip: Master of None demonstrates an admirable awareness of good places to hang out in New York — a crucial skill for any dater in the city. Dev goes to concert venue Baby's All Right for a secret Father John Misty show (episode three), Mission Chinese (episode six), and classic Italian joint Bamonte's (episode eight) for dinner. He takes dates to beautiful well-lit bars like names like Hotel Delmano (episode three), and Alameda (episode five). He gets a cortado at a tiny coffee shop that's tucked into a bougie barbershop called Persons of Interest. And then, he finds similar hip counterparts in Nashville, when he takes a love interest on an impromptu 24-hour date (episode six). Seriously, add all of these to your Google doc of "places to take dates."
How to Have Sex: As mentioned, Dev has a lot of sex. Sometimes you don't want to watch, but hey, this is his world, we're just learning from it. In episode one, Dev illustrates how to deal with a condom breaking during a one-night-stand (take an Uber to the drugstore, pay for the Plan B, maybe buy your date a Martinelli's apple juice to be thoughtful). In episode seven, he demonstrates the wrong way to go down on someone (no funny faces or voices), but also reinforces the importance of going down on someone. His main hang Denise is a great source of information as well — of special note is episode five, in which she explains how she gives women like "30 orgasms."
How to Be a Male Feminist: It's really not enough to just claim to care about feminist issues or struggles women have. Master of None dedicates its entire seventh episode to exploring why things suck more for women and what men can do about it. Spoiler alert: It requires a little bit more effort than just saying "I'm a feminist."
How to Discuss Feelings: Dev is surprisingly adept at discussing feelings and working through emotions. Everyone — male and female — should pay attention to episode nine, in which he deals with his first major fight with a girlfriend. It ends in pasta and resolution. The show also deals with non-relationship issues like parents, race, elder care, and gender with equal emotional intelligence and humor. Oh, and he quotes Sylvia Plath in a voiceover during the final episode and sounds genuine, unlike that smarmy guy from my sophomore-year lit class.
Miscellaneous Interests to Have: Dev likes to dance (several episodes), he likes to eat (every episode), and he makes homemade pasta. He is also able to make conversation with parents, grandparents, and toddlers, and seems to enjoy it.
Now, did everyone take notes?