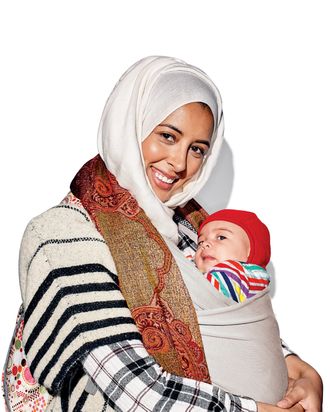 "There's sort of an ignorant part of me that feels like everyone is looking at me like I'm the enemy, but then I realize that most people probably aren't thinking that."
Photo: Bobby Doherty
Adilah Yelton, Ceramic Artist, and Aya Ahmed, 4-month-old
What are you two up to today? I just met a few of my girlfriends at the Union Square Holiday Market. Even though I don't celebrate Christmas, we thought it would be fun to check it out. I bought some truffle honey.
I assume you're Muslim? Yes; my father is American and converted before marrying my mother, who's Muslim and from Singapore. My dad worked in the oil business, and I was born in Saudi Arabia — we were actually airlifted out at the beginning of the Gulf War — and I grew up in Singapore, Indonesia, Malaysia, and Scotland before settling in Houston. I moved here to be with my husband about a year ago.
What's it been like after the Paris attacks? Well, there's sort of an ignorant part of me that feels like everyone is looking at me like I'm the enemy, but then I realize that most people probably aren't thinking that. And sometimes I feel scared. Last week, there was that scarved woman in London pushed into the subway, so these days, when I'm waiting on the platform with Aya, I'm like, "Okay, let's just stand back as close to the walls as we can."
Lightning Round
Neighborhood: Upper East Side.
Favorite restaurant: Brick Lane Curry House. "Their $12 lunch buffet is outstanding."
Favorite TV show: Jeopardy! "At seven, my husband and I are in front of the TV watching it. If we're not home, we record it."
Favorite walk: Through Central Park. "I go there with Aya most days, often to the Alice in Wonderland statue."
Last good book read: "The book based on the movie Crimson Peak. I really wanted to see it but didn't think I could take a baby to a horror film."
*This article appears in the November 30, 2015 issue of New York Magazine.