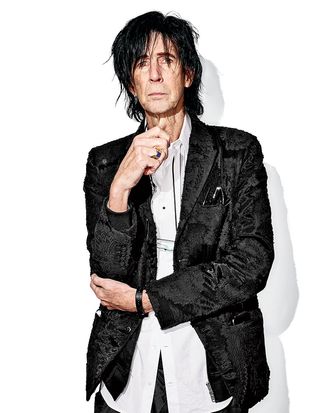 Ric Ocasek.
Photo: Bobby Doherty/New York Magazine
Ric Ocasek, Vocalist and Songwriter, the Cars
Didn't we interview your son for "The Look Book" last year?
Yes, and I'm actually going to pick Ollie up from school. When I'm here on the Upper West Side, I like to stop into Zabar's for a snack. I love their olives. I used to hate olives, until I went to Greece a few years ago, and now I'm obsessed!
What are your other go-to spots?
Well, I love Bouley for dinner. Hands down, the best food. But when people want to take a meeting with me, I always make it at Coffee Shop; they can't hear anything I say because I talk so soft, and I can't hear what they're saying, so it's always a big ball of confusion, and no one gets anything done, so I think that's successful.
Do you still go out a lot?
Not really. I'll only go out if I'm seeing a band that I got a demo from that I might produce. But sometimes, if I see bands play and I really like them, I'll think to myself, Why aren't I doing that? But then I don't really feel like doing it, so I don't, but it gets me, like, kind of pissed. I also know how it feels to be up there onstage and all that stuff, so I can kind of see through the magic curtain or whatever.
Lightning Round
Neighborhood: Gramercy. "I like being near all the good restaurants and all the protests in Union Square Park."
Sunglasses: "I probably have about 200 pairs. I wear the same ones all the time and change them when they break."
Favorite designer: Comme des Garçons.
Favorite building: 740 Park Avenue.
Favorite street: Bleecker. "When I first came to New York in the '60s, I used to play my guitar on Bleecker Street while looking for Bob Dylan.
I never found him."
*This article appears in the November 16, 2015 issue of New York Magazine.