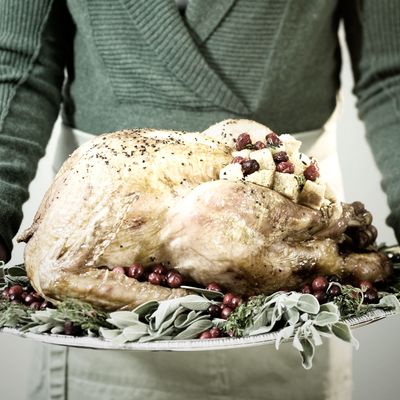 New York's Sex Diaries series asks anonymous city dwellers to record a week in their sex lives — with comic, tragic, often sexy, and always-revealing results. We're republishing this 2015 diary in time for the holidays: a medical assistant who enjoys assplay and Craigslist sex. Male, 42, Westchester, gay.
Day One
9 a.m. Wake up with my boyfriend spooning me. He's a burly, handsome 50-year-old and I can feel his breath and beard on the back of my neck. Fondly remember the times when he would slide his morning hard-on right into me and fuck me awake — after 16 years together this rarely happens anymore. Getting old is hell. We have a great life together and still have a very active and adventurous sex life; it just involves other people now. When we met I was only 26 and had not fully embraced all of my kinks yet. My favorite sexual activity is anal fisting, giving and receiving. Boyfriend is a total top and likes to dominate younger guys. We love each other very much but have decided that it's better to explore our kinks with others who are also into them as well. (I like to top from time to time and Boyfriend isn't really into assplay, so everyone is happy with this arrangement.) We started out monogamous, then gradually moved into an open relationship and now are in an open, polyamorous relationship. I never envisioned myself in this type of an arrangement, but it really works well for us.
10 a.m. Finally climb out of bed for coffee and to build a fire; the house is cold. The wood stove warms up our basement bar and sex playroom.
11 a.m. Late Sunday-morning breakfast with my boyfriend. We talk about the housewarming we attended last night for one of our fuck buddies. We didn't know a single person besides the host. The house was filled with about 50 men, enough booze to stock a cruise ship, and exactly two women. One of the other guests at the party was apparently enamored with the two of us, but he was too shy to come over and say hi during the party. Instead, he hit us up on Scruff (a hookup app for gay guys with beards and body hair). He's cute, late-30s, scruffy, and down for being tag-teamed by the two of us. Boyfriend asks if we should have him over tonight for some fun, but the guy says he is pretty vanilla and is scared to death of fisting. My interest takes a nosedive. He may just be for Boyfriend to fuck. We make tentative plans to hang out with him on Saturday and see what happens.
1 p.m. Receive a good-morning text from Little Boy, who's been living with Boyfriend and I now for over a year. He is currently stuck in Canada while waiting for his visa issues to be resolved with the U.S. I can't wait for him to come home and I miss him terribly. He is 36, handsome, and loves fisting as much as I do. He has a fisting play date scheduled for tonight that he's looking forward to. I wish it were with me.
6 p.m. All weekend chores are done, and Boyfriend is in his office working on homework for his Ph.D. — engineering. I head into the playroom with a rum and Coke, turn on some porn, and pull out some of my favorite butt toys. Spend the next hour and a half playing with my ass while masturbating. This is by far my favorite hobby and it consumes more of my life than it should.
8 p.m. Watching a movie on the couch with Boyfriend before bed. Receive a message from a guy I have been talking with on Recon (a fetish hookup app for leather, rubber, bondage-assorted kinks). He asks if I am free for a fisting session tomorrow. Make tentative plans to meet at my house after work.
Day Two
5:30 a.m. Up with Boyfriend to start getting ready for work — I'm a medical assistant and currently the office manager for a surgeon. I drop my Thanksgiving turkey into the brine I made yesterday. We'll be hosting another fuck buddy overnight on Thanksgiving: He's a hot, sweet 22-year-old with a big dick and a great ass. He's also into fisting and likes to play with both of us. Looking forward to all the shenanigans and having him curled up between Boyfriend and me in bed that night.
12 p.m. Text from the Recon guy canceling tonight; he has an unexpected work problem that will keep him late. I tell him to text me next time he is free.
3:30 p.m. Home from work with a few hours to kill before I need to start dinner. Time for a bottle of wine and porn, which leads to another toy-and-masturbation session in the playroom. Blow two huge loads.
6 p.m. FaceTime with Little Boy in Canada. Still no word on his visa application. It's been over two months now, and I am ready for him to come home. He's completely miserable in Canada.
7 p.m. Quiet night of eating dinner with Boyfriend on the couch and watching recorded cartoons.
Day Three
8 a.m. The doctor I work for is on vacation for the rest of the week, so I'm only working half-days. I'm thinking of finding a trick this afternoon.
12:30 p.m. Heading home for the day. Answered a couple of Craigslist ads from guys looking for random blow jobs. This is just about me enjoying my submissive side. Most of the guys say they're straight and just looking for relief … as men tend to suck dick better. I get off on being the gay guy that a straight guy uses so he can get off because he is not getting it anymore at home. It's also the excitement of random, sleazy, secret sex.
1 p.m. First guy arrives. He's about 48 with a runner's build and no body hair. He strips off his clothes and I get to work with a long, slow, sloppy blow job. After 30 minutes he leaves happy.
2 p.m. Next guy arrives: 38, muscled, hairy body, and ridiculously handsome. Treat him to the same attention CL Guy 1 received, and he leaves happy as well. I realize how horribly slutty this makes me sound, but I love servicing guys and feeling them bust in my mouth. I feel like I'm offering a community service to the sex-starved.
8 p.m. After dinner and watching TV on the couch with Boyfriend. I slide my hand down his pants and offer him a blow job. He declines, saying that he's not really horny. He is saving up for the fun we will have Thanksgiving night.
Day Four
9 a.m. Leaving work again today at noon. Answer another Craigslist ad for a guy looking for a blow job. Make arrangements to meet at my house at one. Dammit, I love sucking dick.
12:30 p.m. I'm home and CL No. 3 arrives. He's in his 60s and has a sexless marriage. I pull his pants down to his ankles, sit him in a chair, and swallow his cock. After 20 minutes he blows his load in my mouth and I gladly swallow it down. He thanks me and asks if we can make this a weekly arrangement. Absolutely, I say, and he leaves.
7 p.m. Receive a text from a guy that I blow occasionally asking if I'm free to suck him off. Boyfriend is already home and is working in his office. He tells me to "run to the store" and meet him for some car head. I immediately agree. I wonder how hard it would be to set up a gloryhole in my basement.
Day Five
9 a.m. Up to start cooking the turkey. Once everything is in the oven, I spend some time watching porn and edging. I haven't come in three days. Saving it up for fuck buddy tonight.
8 p.m. Thanksgiving dinner is over and the guests have left. Watching movies with Boyfriend and fuck buddy. Head down to the bar to make another drink with fuck buddy, which quickly turns into fooling around and ends with a hot 69 on the bar floor. We both orgasm. Too full from Thanksgiving dinner to get into any assplay tonight.
Day Six
10 a.m. Wake up with fuck buddy spooning me. I can feel his hard-on poking my butt cheek. Get up for coffee and breakfast and decide to have a long play session in the basement. After fuck buddy and I are showered and cleaned up, I throw on some porn and we spend the next few hours fisting, fucking, and sucking each other. Boyfriend is upstairs working on homework still.
2 p.m. After a fun day, fuck buddy heads home. Had a blast with him as I always do. Spend the rest of the day doing chores.
6 p.m. Boyfriend comes downstairs to tell me that he was contacted by a 27-year-old Latino boy who wants to be tag-teamed by the two of us. I'm game, so I pour a martini and pop a Cialis to make sure I am ready to go.
7 p.m. Twenty-seven-year-old shows up and he's very cute — great little ass and an uncut dick that's so big it looks enormous on his five-foot-seven body. Boyfriend and I spend the next few hours wearing him out. He leaves happy and Boyfriend and I watch movies until we are tired enough to sleep.
Day Seven
10 a.m. Wake up with a huge hard-on. I love how Cialis works for 24 hours. Boyfriend wants to do some shopping and pick up some locally made gifts for family Christmas presents.
7 p.m. While making dinner I receive a text on Recon from a 31-year-old who wants to swap fists with me and asks if I am free. He just returned to town from a family holiday vacation and is horny. I say hell yes, tell Boyfriend, and Recon guy starts to head over.
9 p.m. Recon guy is hot, holy shit hot. Was a competitive swimmer and his body is amazing, great ass and a six-pack of abs. He brought a new ass toy that he hasn't played with yet and asks me to use it on him. We head to the playroom and the fun begins. Doesn't take me long to get the toy and then my fists up his muscled little butt. Spend the next three hours wearing each other out until he says he can't take anymore and decides to go home. Super-sweet guy and a lot of fun — make plans to play again soon. While we were busy playing, Boyfriend sends me a text saying that he is off to go play with a boy locked in a chastity cage whom he hasn't heard from in a while.
Midnight
Head to bed. This was a fun and busy holiday week.