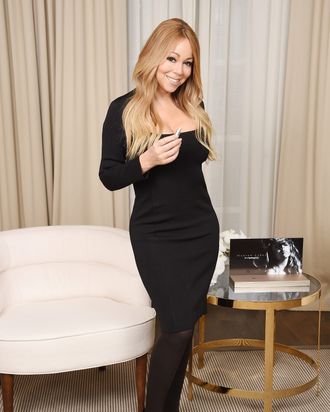 Mariah Carey
Photo: Dimitrios Kambouris/WireImage
When MAC announced that Mariah Carey would be its newest collaborator on a Beauty Icon makeup collection, our Lamb hearts swelled with joy. While the full collection won't launch until next year, the first piece — a frosty champagne lipstick called All I Want that is perfectly, to use a Carey-ism, "festive" — will be blessing us in December. The elusive chanteuse was kind enough to sit down with the Cut to sip tea (not in the euphemistic sense) and chat about the collection, '90s beauty, karaoke, Cribs, the 2016 election — nothing was off-limits.
You've said that you're not necessarily a fan of classic red, but prefer a champagne color. How would you do a holiday look that doesn't involve the classic bright red lipstick?
I think that the frost is really nice for holiday. And you could do even a little bit of a light shimmer on the cheekbone or on the eyes — a little bit of a glow to the face.

You called it a "throwback" color. Are there other '90s beauty trends that you wish would come back?
I don't think there were great beauty trends in the '90s — I was just doing my own thing. In the beginning I didn't know what was going on with the makeup and then later I was fortunate to work with great people. I used to work with Laura Mercier; that was a turning point for me.

You're a beauty school dropout?
[Proudly] I am. Yes, I am!

What was the best trick you learned there?
I think it was more like hair stuff, like they would make us do scalp treatments on each other. And cholesterol treatments and stuff like that. You just put a wrap on your head — like a heat cap. And before that they stimulate the scalp.

So you're not messing around? 
No! This was real. We had to wear a smock and everything. Hideous shoes. It was funny.

There's going to be an expanded collection that you're putting together with MAC. What can we expect from that?
I would say it's been so great working with the people at MAC because they've been so collaborative and so great. I've gotten to put so much of myself into this. And I love everything from the packaging, which is phenomenal, to all the colors and everything we worked on together. I can't get into it too much, but I'm obsessed with it.

And with all of your beauty school knowledge, you were probably able to come in and bring that expertise?
My beauty school knowledge just blew everyone away! [Laughs]

I know that you like to talk about "moments" — so I was wondering what kind of moment you're in right now? 
Right now — like, right now? I'm in a "here I am" moment. That just means it's kind of like, whatever. But I'm excited to be talking about the lipstick and everything else.

You're present?
I'm here. Yes. [Laughs]

Also, to use your terminology, what do you think is fab and what's bleak lately?
What is bleak lately? I'll tell you what's fab about the word "bleak." My four-year-old daughter [Monroe] is like, "Mommy, is that bleak?" Like, she's asking me about things and are they bleak. So you know, I gotta watch what I say. But I think that's pretty funny. I think that's pretty fab.

She's carrying on the tradition?
Yes.

Your fans love to give you crazy presents. What's something you've gotten recently from a Lamb?
Recently? I don't know. [yawns] I'm sorry, I'm having a "sleep" moment…

Well, there was a very interesting shirt that a fan made with a quote that I said years ago that, when I said it, I really wasn't trying to be funny. I was just being honest and everybody's kind of blowing it out of proportion but this guy had a shirt on and it was a picture of me that he made and the quote was underneath it — and I'm going to leave you hanging as to what it was.

Will I be able to Google what it was?
Probably, yes. [Editor's Note: After consulting with Vulture's resident member of the Lambily, we]re pretty sure she's referring to the fan-made "I Don't Know Her" T-shirts that allude to Carey's famous comment about J.Lo.]

Everyone was obsessed with your episode of Cribs. How has your approach to décor changed? Like, you had the Moroccan room? 
Still have it.

Have you changed it around a lot?
Not really, I mean, I've added things and stuff like that. I also didn't show every room on [the show].

I just remember seeing that and thinking, That is the ultimate bachelorette pad in New York.
It was! Of course we have a nursery in there now so it's [the kids'] bedrooms, so it's a different situation than it used to be. So it's kind of hard because I did make it as the ultimate bachelorette pad because I wasn't thinking about having these bedrooms.

Do you go to karaoke, and if so, do you have a go-to song?
I really don't do karaoke because it becomes a vocal performance rather than fun like, "Let's just sing this song and be silly." It's not fun for me.

Because you come at it from a professional standpoint?
Well, you know what I mean. I think it's fun for other people to do it.

If you could play A&R rep, is there an up-and-coming artist that you like that you would sign right now? Someone you've really been enjoying?
The thing is if somebody is already being heard then they're probably already being signed to somebody else.

That's true. I guess you would be poaching.
Exactly. I don't want to poach somebody else's artist.

Is there someone you're just been enjoying listening to right now in general?
I like the Weeknd.

Are you a feminist?
I think I am, in an unexpected way. I'm not Gloria Steinem, but I mean, I'm definitely all for powerful women.

I believe you're a Hillary supporter. Would you ever write a campaign anthem for her, and if so, what it would be?
Oh, that's a huge question.

Yes. It does not commit you to actually writing one.
I don't know how to answer that. Writing an anthem for anybody is a major thing. I wrote my own anthem. It's called "Mariah's Theme," it's on the Rainbow album from '99. Back in the day.

So you could do "Hillary's Theme."
I don't know! I'd have to see what she wanted to talk about.

But you are a fan of hers?
I mean, I love to say this: 'We love everybody.' That's my typical statement — my nonpolitical "get me out of this." [Laughs]
This interview has been condensed and edited.