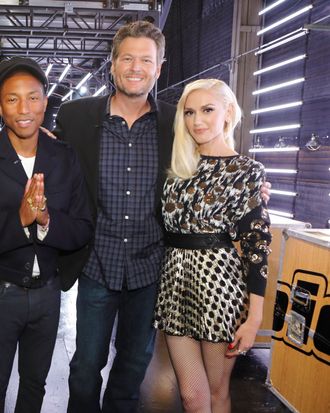 Cute!
Photo: Trae Patton/NBC/Getty Images
Not long ago, perennial babe Gwen Stefani (who honestly could be anywhere from 19 to 400 years old) announced that she was divorcing Gavin Rossdale, meaning that she was now free to play the field, just as God intended. And the "Hella Good" singer needn't look further than her workplace for an acceptable rebound: "Isn't Blake Shelton such a nice boy?" moms across America asked out loud to no one as they watched Stefani and the slicked-back, country-fried recent divorcé share flirty banter on The Voice. "They'd make such a handsome couple!"
Shelton and Stefani have been quick to deny any hand-holding is going on, but a source tells Us Weekly a different story. At a Halloween party on Saturday night, Gwen was seen "holding Blake Shelton's hand and walking him through the party to get a drink," and they allegedly "were attached at the hip."
Talking with Ryan Seacrest on his radio show this week, Stefani insisted there was nothing going on between the two. "I'm not going to answer that right now," she told Ryan Seacrest. "But I think he's hot, don't you?" Gwen added, to the delight of moms everywhere.
Update: Your mom's fantasies have indeed come true: Gwen Stefani and Blake Shelton are dating! An official Gwen Stefani spokesperson tells Us Weekly that "Gwen and Blake are longtime friends who have very recently started dating."
If you're wondering what this pop-punk-country union will look and sound like, peep this video of them doing Spin the Microphone on Late Night With Jimmy Fallon. Fast forward to 8:32, the moment a new love blooms.