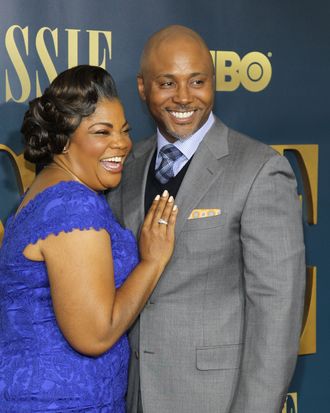 Photo: Bennett Raglin/Bennett Raglin
Any marriage counselor will outline the importance of openness and honesty. But Precious star Mo'Nique has a slightly different spin on the concept. In a new interview with True Exclusives, Mo'Nique reflected on her nine-year marriage and why they've rejected exclusivity. "Often times people cheat because of something they're not getting," she said, stressing the importance of being direct about desire.
Instead of just broaching sexual frustration or interest in others during complaint-fests with girlfriends, she goes right to her husband.
… when you have open and honest dialogue and you say we're just human beings and all these people on the face of the earth, do you think my eyes won't ever say 'he's fine' or 'she's attractive'. Now if you wanna go further with it, let's be honest enough to have those conversations. What is it about that person that you find that you wanna sleep with? Because they may give you something that I'm simply not willing to do. And if that's the case, how can I be mad? Because I'm not gon' do it. Should I deprive you of not having it? That's when the relationship is real real.
Her real, real relationship with producer Sidney Hicks has always been more flexible than most. Non-exclusivity isn't just some last-ditch attempt at saving a faltering relationship. "If sex happens with another person, that's not a deal breaker for us," she told the New York Times back in 2007, adding, "that's not something where we'll say, 'Oh my God, we've got to go to divorce court, and you cheated on me.'"
This week, she offered insights into the philosophical underpinnings of her open relationship. "See, we've been taught to have ownership," she said.
That's the Western way to do it. I originate from this place called Africa and what I know of African kings, tell me about one of them that just had one wife. Do you know any of them? I don't.
Mo'Nique has recently begun an intense fitness regimen so that she can enjoy a long, happy life with her kids and future grandchildren. Unsurprisingly, her husband also inspired the decision: "The same way I make love to my husband at 47, I wanna be able to make love to him at 99," she said.