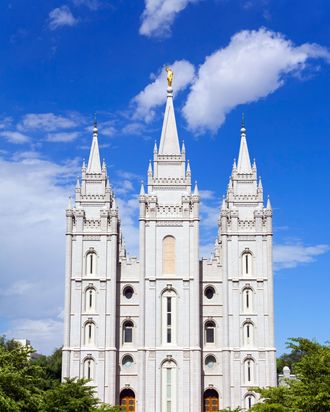 The Salt Lake Temple of the Church of Jesus Christ of Latter-day Saints.
Photo: Richard Cummins/Corbis
The Mormon church, already steeped in an aggressively anti-gay agenda, has now taken measures to exclude children of gay couples from the religion, according to the New York Times, which obtained copies of a handbook distributed to lay leaders on Thursday. The new policy says that children of same-sex marriages will only be permitted to join the church once they are over 18, are no longer living with their parents, have disavowed same-sex marriage, and have been approved by leading members of the church.
After the handbooks were leaked to the press, Eric Hawkins, a spokesperson for the Church of Jesus Christ of Latter-day Saints, released the following statement: "The church has long been on record as opposing same-sex marriages. While it respects the law of the land, and acknowledges the right of others to think and act differently, it does not perform or accept same-sex marriage within its membership."
According to the New York Times, prior to the new outline on how to treat same-sex marriage, it was up to bishops and congregational leaders within the 30,000 Mormon congregations across the world to decide how to discipline members of the church who were in same-sex marriages. Now, being in a same-sex marriage is considered apostasy and is grounds for disciplinary hearings and excommunication. Furthermore, the children of same-sex marriage will no longer be baptized or recommended for positions as missionaries, a policy that has caused outrage among progressive Mormons. One, Jana Riess, said that "It's heartbreaking for me to see my church drawing this line in the sand, which leaves faithful L.G.B.T. members with an impossible choice: They can either be excluded from lifelong love and companionship, or excluded from the blessings of the church."