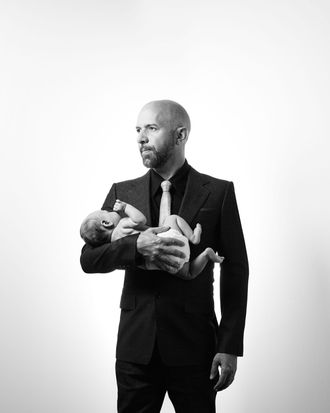 Neil Strauss and his son.
Ten years ago, when Robert Greene's The Art of Seduction was at the height of its influence and Tucker Max was king, a shy music journalist named Neil Strauss embedded himself in the then-underground world of "pickup artists," a group of straight men turning getting laid into a sleazy science. Reinvented as a lothario called "Style," Strauss spent three years as one of the top pickup artists in the world (according to a self-appointed international pickup-artist governing board), recording his hookups and heartaches in The Game, the massively best-selling book that became the gold standard for its genre of the sexual self-help manuals for men. As his horny fan-base clamored for more, Strauss published a follow-up called The Rules of the Game; launched an online seduction academy; and starred in a reality-TV show. He licensed his name and face to a board game called Who's Got Game?, a sort of truth-or-dare version of Apples to Apples that requires players to tickle each other and confess their fantasies. Cartoon images of Neil's bald head and soul patch appear on nearly every card.
But at some point between The Rules of the Game and Who's Got Game?, Neil Strauss checked into rehab. For sex addiction. His collapse — which he chronicles in his new book, The Truth — coincided with similar reforms in his male dating-guru peers, including Tucker Max, who released a gentler self-help guide last month, entitled Become the Man Women Want. After earning fame and fortune with bawdy play-the-field antics, the most famous douchebags of a generation have changed their minds (or perhaps embraced a newer feminist Zeitgeist) and are now peddling healthy relationships — and the struggle to achieve them. Turns out dealing with your mommy issues — like Strauss's "emotionally incestuous" relationship with his own mother — is a lot harder than getting laid.
This is the material for Strauss's latest, The Truth, in which he grapples with romantic commitment with the help of therapists, a hypnotist, swingers, orgies, and, finally, the institution of marriage. (Instead of a bachelor party, he held a funeral for his former life as a player.) He also plumbs his own psychosexual history — starting with the discovery that his father is an amputee fetishist who secretly made videos of his disabled mother limping at their honeymoon, which he stored alongside a vast collection of amputee porn. Strauss discovered this when, as an adolescent, he went looking for Playboy in his dad's closet, but ended up watching women without limbs "wriggling" around.
As a coda for The Game, these revelations are, well, game-changing. Suddenly the books, board game, online seminars, DVDs, and all the other texts in the Straussian dating oeuvre seem less like a predatory franchise, and more like a psychoanalytic case study of the straight American male id. Think of it as My Struggle for the Axe body spray demographic.
Before checking into rehab, Strauss had never done therapy. Even rehab wasn't his idea — after his bikini-model girlfriend Ingrid De La O dumped him for sleeping with one of her friends, the music executive Rick Rubin told Strauss to check into a one-month program. "There are people who need to go to this Level 1 psychiatric hospital because without it they are going to die. They're going to drink or snort or inject themselves to death," he writes in The Truth. "All I did was cheat on my girlfriend." Today, Strauss doesn't consider himself a sex addict, but he does consider rehab "one of the most life-changing things that happened to me." After his monthlong stint as an in-patient, Strauss met with a number of therapists, counselors, and doctors to study what he now considers his "intimacy disorder."
He started writing The Truth after breaking up with De La O, several months after leaving rehab. "It was really going to be this horrible book, about how marriage is an anachronism, and divorce-rate figures are around 50 percent, and so many people are unhappy in their marriages, and scientifically, monogamy doesn't make sense." His goal was to invent "a new kind of relationship," by trying out polyamory and putting together his own open-relationship dream team.
Instead, the experience led him back to an old-fashioned starting point: his mother. One therapist told Strauss she'd subjected him to "emotional incest," treating him as her significant other, perhaps as a coping mechanism while avoiding intimacy with Strauss's father. She's so afraid of being turned into the object of fetish porn that she has refused all photographs for as long as Strauss can remember. (When he asked his mother what gift she would like for her 50th anniversary, she replied, "Shoot your father.") Isn't it ironic, then, I ask, that the chief complaint about his professional legacy is the objectification of women? "That's interesting," he says. "So true. She was completely objectified. Good point." And yet, he points out, his mother often encouraged lothario-like behavior, rejecting only girlfriends who seemed serious — a possessive pattern that, he argues in his book, suggests she didn't want to share him. The result: sex without intimacy and an intense fear of being vulnerable to women.
Rattling off a list of male dating writers, including The Art of the Seduction author Robert Greene and Tucker Max, he says: "They all have one thing in common. Do you know? Take a guess. They all have narcissistic mothers. So of course they write these books, or live these lives that are about not being vulnerable to that same sex. But it's a sad way to live."
"The problem with me is that my life was controlled," he told me. "As an adolescent, you're supposed to healthily individuate from your parents. And the fact that myself and certainly so many of the guys who were part of the whole Stylelife [his online academy] thing, the parents tried to hold on and control them as adolescents."
Strauss and De La O eventually got back together, and were married two years ago. (Strauss's mother attended the wedding only after the wedding photographer agreed not to take a single picture of her.) Eight months ago, they welcomed their first son, and Strauss tells me he hopes to add another child later. At the time of our interview, Strauss's parents hadn't yet read the book, though they did give him their blessing to write whatever he wanted — even though, to this day, he still isn't even sure how his mother's leg became injured. Though he says he's at peace with the dysfunction of his childhood, he hopes his new family with Ingrid will be different. One of the most important discoveries he made while working on The Truth, Strauss tells me, "is that I learned how to be a father. If I hadn't gone through this experience and learned about the nature of trauma and healing — and what healthy parenting is, and how parenting affects the child — it just made me much more aware and cautious. So much better than if I'd just winged it."