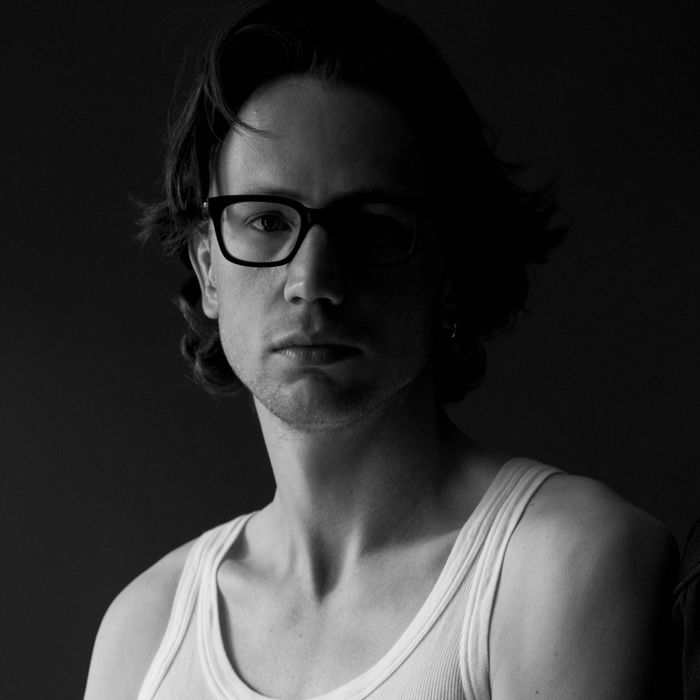 Max Vallot and Tom Daly.
Photo: Michael Avedon
The first thing to know about Max Vallot and Tom Daly, the two fashion boys behind District Vision, is that they are entirely sincere. They're tall and handsome and European, and they have gone to business school and spent time at places like Acne and Saint Laurent, so they could be insufferable if they felt like it, but by all appearances, they don't feel like it. They're on a mission: to share their distinctly downtown vision of wellness with the rest of New York City.
District Vision is a social network (the first iteration of which launched Monday night) and a line of eyewear (coming in January). It was born after Max and Tom, who are old friends from university in London, had simultaneous, parallel awakenings. Max, who is slim, boyish, and German, discovered yoga, while Tom, a tall blond Englishman, began running. They'd both done their share of partying and their share of frantic office work, and they found that healthy living agreed with them. It wasn't just about the exercise, either. Says Max, "Mind and body are connected. If you want to feel better, if you want to be better at work, if you want to calm down, it's all one thing."
This sort of yogic philosophy might be par for the course in our wellness-obsessed era, when you need your meditation app to quell your worries about how much you're spending on green juice. But it still sounds novel coming from Max, a onetime model who stumbled upon Transcendental Meditation because there was a studio next to his office when he worked at Saint Laurent. As fitness culture and hipster culture continue to blend, District Vision feels like the next step on a continuum that's already brought us health goth (working out like Rick Owens) and free hikes led by the Cobrasnake (working out like a mid-'00s party photographer).
Fashion and fitness have always gone together for obvious reasons, but they've never mingled in quite this downtown-meets-Tulum kind of way. "It's all about getting to know yourself, and ultimately feeling better about yourself and everyone around you, rather than going after quick short-term goals," Max goes on, sitting in his Tribeca co-working space as gentle music plays in the background. He's got some beads draped around his neck. "You know, win this race, kill this SoulCycle class, lift these weights. Ultimately, you're not getting anywhere."
Max and Tom weren't always so centered. Like many New Yorkers in the mid-'00s, they benefited from the city's surplus of bars and clubs even as they suffered from its shortage of jobs. "We graduated in 2008 and we came here," says Tom, "and there was nothing to do here, frankly, but get fucked up." Eventually they found success in fashion. Tom worked at Acne; Max helped launch BLK DNM and then moved to Saint Laurent. But, explains Tom, "We both had quasi— I wouldn't say traumatic, but down times together, which caused us to do this." A breakup pushed him to start running marathons, and he found a community of like-minded joggers in Black Roses, a downtown running club.
As for Max, he says that meditation studio "changed my life. I immediately felt a lot more calm and finally had a technique for managing my crazy intense workload." His girlfriend, a yoga teacher, started bringing him to restorative classes, and he eventually developed a practice, although, he says, "The fitness aspect came very, very last."
So the two went into business together, launching a branding and communications consultancy that works with clients like Balenciaga, the perfume company Byredo, and Camper shoes. If this doesn't sound like the most obvious way to follow your bliss, well, that's where the rest of the District Vision master plan comes into play.
The social network aims to bring together like-minded people — runners and yoga aficionados — who are looking for a fitness community, though Tom is hesitant about that terminology. "The community right now, if we're even allowed to use that word, is just us and our friends. But hopefully as this grows, it will build into something where people feed us and we feed New York City, and it becomes a natural symbiotic creation."
The site will let people sign up for runs and other events, and, as Tom puts it, will highlight "key individuals who have inspired us on our journey." Those include the yoga teacher James Murphy and others featured in a moody, Twin Shadow–soundtracked promotional video that District released this September. It's pretty stunning — a reminder that if there's one thing fashion people do well, it's making already-cool people look even cooler.
Which brings us to the glasses. Fitness eyewear has an image problem, associated as it is with the kind of wraparound shades you see on baseball players or aggro biking dads in Prospect Park. District Vision's glasses get around the aesthetic problems because the frame hides some of the wonkier performance aspects. They're light, with an adjustable nose pad, and outfitted with high-tech, water-repellent lenses developed with engineers in Japan. You can wear them as sun protection or for optical purposes.
When I ask "Why eyewear?" the boys laugh and gesture to their own glasses before pointing at mine. Point taken: Plenty of New Yorkers have mediocre vision. But it was also important for them to start with something technical that wasn't represented in the market. "Sure, we can make yoga pants and we can make T-shirts," says Tom. "That's great, we love those things, but at the same time what we really feel like is missing in the market is this, with a real, functional benefit."
Yoga pants and T-shirts are saturating the market for a reason: We're living in a moment where fitness is a sign of status. I mention the expression "Health is the new wealth," and Tom and Max, who haven't heard it before, sound vaguely horrified. "Then it becomes a competition," says Tom, "which is beside the point."
They agree that the cultural pendulum has swung away from the wild partying of the Paris Hilton–era '00s and the hangover of the recession and back to a place of health, but they think New York's new health consciousness is more than a trend. "Ten years ago, the economy was booming. We were living in excess," says Max. "There was nothing better to do than to just get distracted. Now, people are seemingly all about reality. They don't want to get distracted anymore. You want to look yourself in the eye and really get to know yourself."