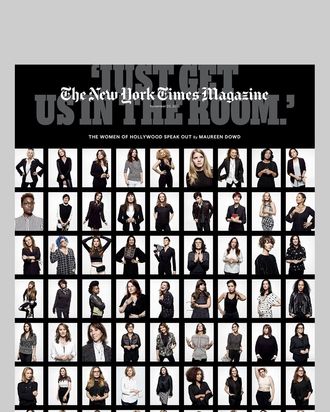 The New York Times Magazine
Photo: The New York Times Magazine
Fresh off the heels of The Hollywood Reporter's cover story on the Great Eight (eight actresses in conversation about the challenges and triumphs in their careers),The New York Times Magazine went and one-upped the game by interviewing more than 100 Hollywood insiders on the film and TV industry's problem with women. Columnist Maureen Dowd spoke to men and women in the industry, everyone from Shonda Rhimes to Adam McKay to Jill Soloway to Karyn Kusama — directors, actors, showrunners, and writers alike — to gain insight on the industry's most-discussed problem.

The story is full of great lines like this from Dowd: "That kind of leap — from indie to blockbuster — is almost exclusively reserved for young guys in baseball caps who remind older guys in baseball caps of themselves," and is worth a full read. But what's really memorable are some particularly great anecdotes from women in Hollywood on the ways their male peers get worked up about tears, emotion, and sensitivity. Men don't seem to respect crying, both in real life and onscreen.
Director Catherine Hardwicke (who herself has been described by men in her industry as "overly emotional") notes the double standard that "A man gets a standing ovation for crying because he's so sensitive, but a woman is shamed.'' Crying gets a bad rap, but other types of emotional outbursts are fine, she says:  ''I was on the set to witness firsthand a range of sometimes atrocious emotions — well-documented firings, yellings, fights between directors and actors, hookers, abusive things, budget overages, lack of preparation."  Karyn Kasuma, director of Girlfight, told Dowd that there is an understanding that "directors, showrunners, creators can be, and somehow benefit from being, tyrants. The assumption is that a man is a much better monster.'' And of course, a monster never cries.
Dana Calvo, producer of Good Girls Revolt, said, "I may be wrong, but I get the sense that the worst fear of men in Hollywood is that there's going to be crying, that women will turn everything into 'Beaches' and 'Terms of Endearment.' And even if there is sex, what if there's crying after sex?''
This distaste for public emotion brings gender politics to everything, says producer Jessica Elbaum: "I think there's a fear that females can only tell female stories, like if they're given free rein, they'll just write stories where everyone's braiding each other's hair and crying.'' Welcome to Me director Shira Piven is likewise fed up with the incorrect notion that men "have heroic lives, do heroic things, are these kind of warriors in the world, and that women have a certain set of rooms that they have to operate in."

But many of the women interviewed would contend that being emotional actually added value to their careers — and made the content they create better. Marielle Heller, director of Diary of a Teenage Girl, was convinced that women's nurturing tendencies make them, in fact, "perfectly primed to be directors.'' And Jill Soloway (who once said "If you can't cry, you're a liability") prefers to not yell ''Action!'' on set because of how close it sounds to "Attack!"
There may be no crying in baseball, but there should be crying in Hollywood.