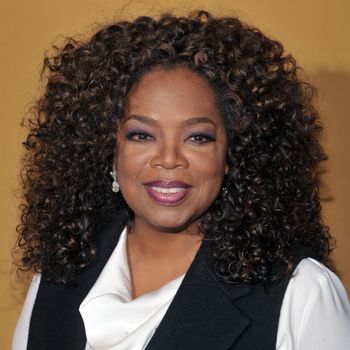 Oprah.
Photo: Joe Stevens/Retna Ltd/Corbis
Recently, in a radio interview, Rebel Wilson dared to question the work ethic of Kim, Kendall, and Kylie.
"I got asked to present with Kendall and Kylie at the recent VMAs and said 'no.' It's not that you hate any of them individually, but it's just that everything they stand for is against everything I stand for. And they're not famous for talent. I worked really hard to get where I've gotten to," she said, and made reference to Kim's sex tape.
But lo! Oprah went on the same show, Australia's "Kyle and Jackie O Show," and set the record straight.
I interviewed the Kardashians two years ago and I can't believe how hard they work. People don't understand that; people think, Oh, if a television camera's just following you, then that's just easy. To really create a reality series that looks like something's actually happening, it means you have to be on all the time. I went to film them as a family and I couldn't believe how hard they worked. We were there for seven hours and they were gonna tape another seven hours after I left. No matter who you are, that is work.

What a blessing: The Kardashian-Jenners can now list Oprah Winfrey as a reference on any job application.