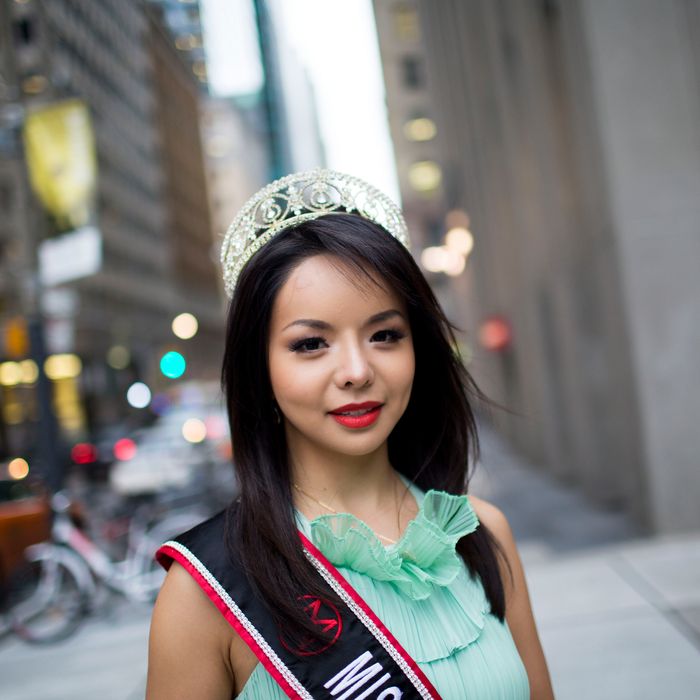 Anastasia Lin.
Photo: Carlos Osorio
Yesterday's opening ceremony for the 65th annual Miss World contest included contenders from 110 nations. Notably absent: Canada. Canadian pageant star Anastasia Lin was less than 300 miles away from the Chinese island of Hainan where the bedazzled competition is taking place. Stuck in the Hong Kong airport, Lin wasn't allowed to board a flight to Hainan.
As the 2015 Miss World Canada titleholder, she's certainly eligible to compete. But, "unlike all other Miss World contestants, I did not receive an invitation letter from the Chinese organizers of this event, and so was unable to obtain a visa in advance," Lin wrote in a Facebook post. The 25-year-old actress, pianist, and beauty star also happens to be a human-rights advocate.
Canadian citizens can legally apply for a visa upon arrival. "So I decided to try attending anyway," Lin wrote, of her decision to travel from Canada. Chinese officials refused to grant her request and failed to offer explanation. It's quite likely that her outspoken criticism of the country where she was born raised red flags among government officials.
The slogan of the Miss World competition is 'Beauty with a purpose.' My purpose is to advocate for those who cannot speak for themselves—those who suffer in prisons and labor camps, or whose voices have been stifled by repression and censorship. I also want to give courage to all people living under repressive systems. Many of them have lived in fear for so long that they have forgotten that they can think freely.

This is a very personal cause for me. When I was a child growing up in China, my job as a student council president involved enforcing ideological purity among my classmates, organizing them to watch Communist propaganda. It was only after I moved to Canada that I discovered what it meant to think freely, to use my own mind, and to live without fear of arbitrary punishment or reprisal.
On- and offscreen, Lin has repeatedly spoken about the corruption and human-rights issues in her home country.
Right now, Lin is still in Hong Kong, hoping to get a definitive answer about whether she'll be allowed to go to the pageant. In the meantime, she's asked those who've become aware of her story to "ask the Chinese government why it is afraid of a beauty queen."