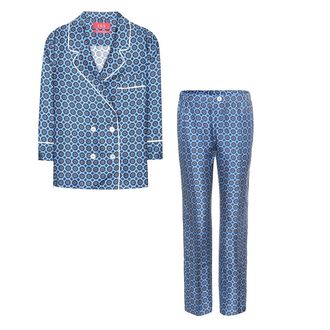 Every Friday at the Cut, we're highlighting one great purchase — an item so good, it's worth eating ramen noodles for the rest of eternity. If you're looking for cheap thrills instead, check back Monday for a pick-me-up that will still leave you cash for dinner.
Sleepwear is usually a fashion afterthought, but Milan brand For Restless Sleepers aims to change that, elevating the pajama to something you can proudly wear in public. The company's 100 percent silk PJ set is so luxe, you can wear it for a day at the office or on a night out. The trick is in the styling — the creators want you to wear each piece with street clothes, so they've designed them to go just as well with strappy heels and a skirt suit as they do with fluffy slippers and a robe. Check out the company's Instagram for inspiration, and prepare for your waking life to get a lot more comfortable.
For Restless Sleepers Printed Silk Trousers, $521; For Restless Sleepers Printed Silk Shirt, $781.