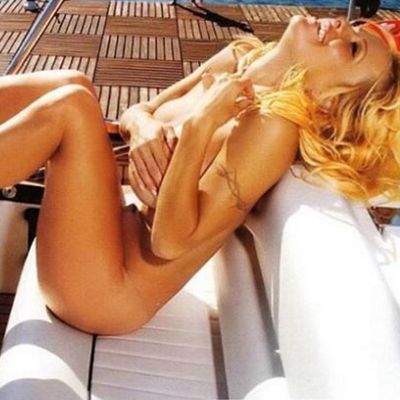 Pamela Anderson.
Photo: pamelaanderson/Instagram
When you get good news, you might call your mom or shoot off a few texts. On Saturday, Pamela Anderson chose to share a photo of herself blissfully reclining on a yacht in the nude. What was the happy occasion? The 48-year-old actress and activist said that she'd been cured of Hepatitis C, the viral liver disease she contracted 16 years ago after sharing a tattoo needle with ex-husband Tommy Lee.
She shared the picture on Instagram with a flurry of hashtags:
I am CURED!!! - I just found out #nomorehepc #thankyou #blessing #family #prayer #live I pray anyone living with Hep C can qualify or afford treatment. It will be more available soon. I know treatment is hard to get still…#dontlosehope #itworkedforme #thereisacure #love #happy #americanliverfoundation #celebration #Idontknowwhattodo #iwanttohelp #cannes #iloveboats #onthesea #free
There's no vaccine for the disease, which can lead to cirrhosis or liver cancer, but there are treatments that have become increasingly effective. In August, Anderson told People that she was prescribed a new FDA-approved drug regimen that could cure her in a matter of weeks. The newest drugs can cost $1,000 per pill and insurance companies might only cover the cost for the sickest patients, but experts hope competition will drive prices down. Anderson told People she doesn't have liver damage but the disease lingered over her like a "dark cloud." Now the clouds have given way to sunshine, which is always brighter on a yacht.